And so the "real" adventure begins with our first foray outside of the city as we make our way north!! We had a potential train schedule from the internet (potential only because I kept reading that schedules are so optional here in Thailand!) The site I found was www.railway.co.th/checktime and as far as I could see, the schedule was accurate.
We decided to take the 8:20 train to Ayutthaya from Hua Lamphong station in Bangkok. A taxi to the station was 60 B although the driver first offered us the low low fixed price of 150 B!!!! Since we had just taken a taxi from near the station in Chinatown the day before, we knew that there was no way we were paying that!!!! We asked him to put on the meter and when he said no and we said OK next taxi please, he changed his mind! So the lesson here coincides with everything I have read about taxis in Bangkok – always use the meter!!
We made it to the station and had the tickets bought in no time. We were first offered 2nd class tickets at around 900 B for the four of us (can't remember exactly) but I asked about 3rd class and we made away like bandits in the night with a charge of 80 B for all of us!!!! That's 0.47€/0.69¢ each instead of about 6€/$8 each.  For a two hour train ride! The trick with 3rd class is that you don't have an assigned seat so you might have to stand and there is no air conditioning. We did however have soft seats which was a big surprise! We also were able to sit the whole time. The train left on time but ended up being "only" 40 minutes late into Ayutthaya.
The station at Ayutthaya was well equipped with luggage storage, advanced booking office, toilets, etc. And tuk tuks! We went ahead and bought our tickets for the next day to Phitsanulok where we would then take a bus to Sukhothai. This time we sprung for the 2nd class tickets since the journey was listed as almost 4 hours. Once we were organized we set out in a tuk tuk for Baan Kong Hotel. It cost us 100 B with no negotiation.
Baan Kong is right across the road from Wat Ratchaburana so ideally situated for exploring the central area of temples. The man on the desk was so nice and his English was quite good so we got lots of information from him (mainly helping me locate my list of temples to see on the map!) We also signed up for a private longboat trip around the island around sunset time. It was either going to be 200 B each to join a group or 1000 B to just get our own boat so we opted for the latter. Our bungalows were brand new (four weeks old) and great! Pretty basic but comfortable and really all you need!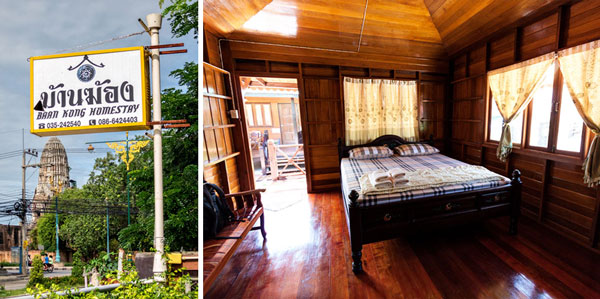 Our first temple was our neighbour Ratchaburana. The most notable feature here was the tall tower that you could climb. Inside the tower was a bat cave!!! It was so freaky to see the bats flying around and hear them. We didn't really venture too far into that area!!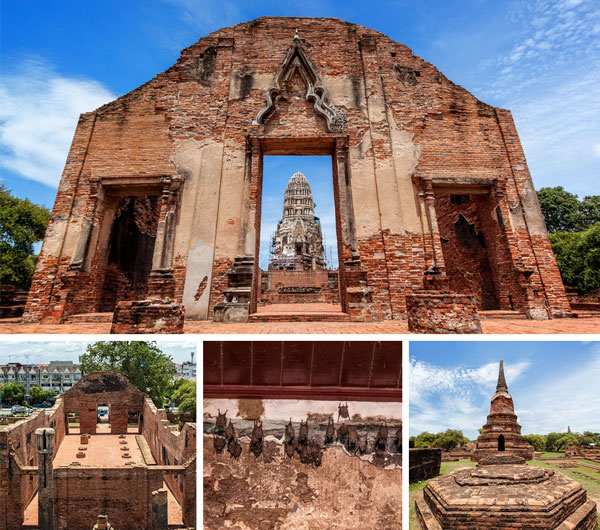 We skipped over Wat Mahathat in the hope that there would be fewer people towards the end of the day when day trips would already be on their way back to Bangkok. Amazingly though, from the road you can see the famous Buddha head encased in tree roots.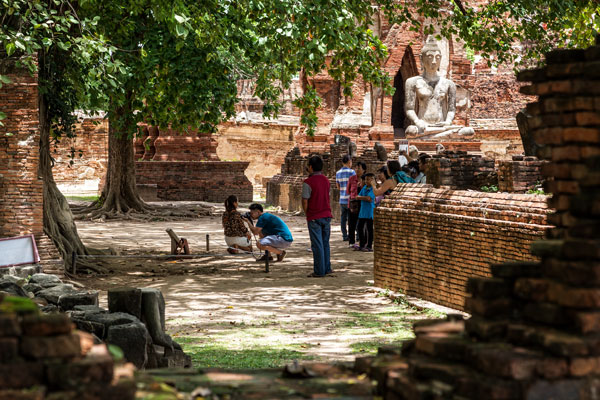 From there we crossed the big park to Wihan Phra Mongkhon Bophit and marveled at the giant Buddha inside.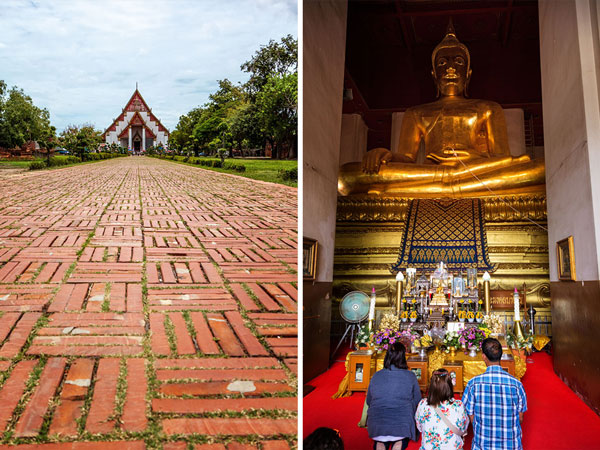 Next door is Wat Phra Si Samphet which is distinctive with its three chedis.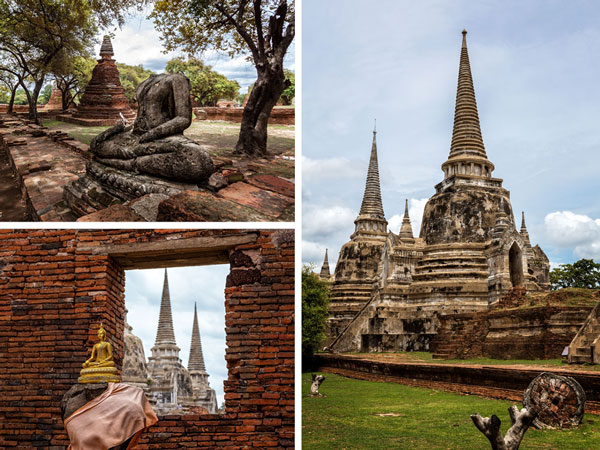 By now it was time to start heading back to Wat Mahathat so that we didn't run out of time. There were still enough people around but as with all the temples, a little patience usually wins out in the end for photos. The Buddha head in the roots really was fascinating to see, especially because there were so few statues with heads that it was a bit different to see a head without the body. Its location was quite surprising to me since all of the pictures I had ever seen of it were really close up so it was neat to see the tree itself.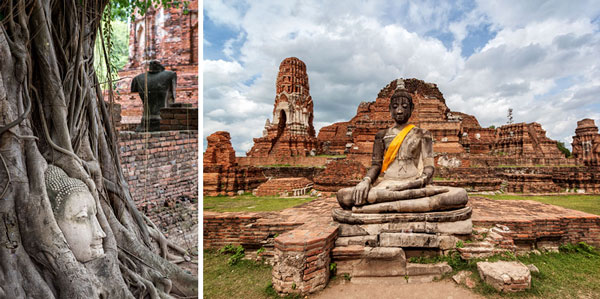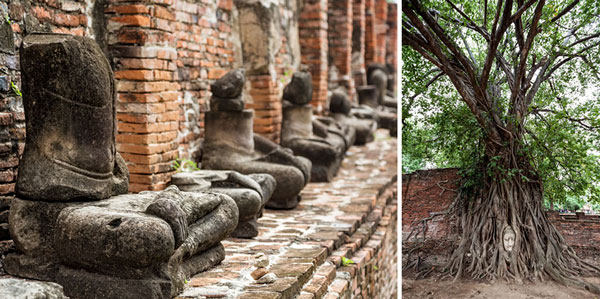 Next on the agenda was a bite to eat before the boat trip. We went to Malakor on the corner of our street.
The boat trip started at 4 pm with a tuk tuk ride to the night market area where we caught the boat. We motored around the moat/river clockwise and stopped at 3 temples with 20 minutes in each. The first was a new temple, Wat Phanan Choeng. And as is the trend, there was a huge Buddha inside. Fascinating!
The next stop was Wat Phutthai Sawan. This had Buddhas all around the perimeter and then towers in the middle. This trip turned out to be the ultimate test for us in that we only had 20 minutes to take pictures! We are usually very slow about the process (just ask poor Virginia who has to wait around for us!) So this felt like a sprint!
The third temple was our favorite of the day: Wat Chaiwatthanaram. It was khmer-style so had that Angkor aura about it. The sun was just about to set and the area was so peaceful even with the boatloads of people running around!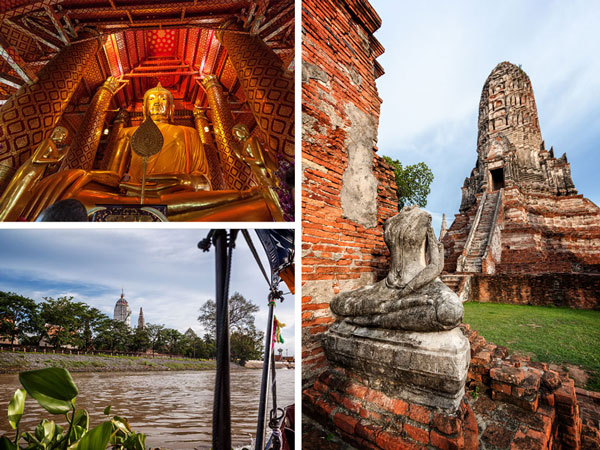 We then boated around the rest of the island and ended up back at the night market. We had a beer to quench our thirst while we pondered the food options. Meanwhile mother nature was hard at work building up a rain storm that would last over an hour and scutter our plans for market food. We eventually abandoned the area in a tuk tuk and went back to Malakor to eat since we knew we could stay dry. The hotel actually left umbrellas at our bungalow doors which was a nice touch!