Our three days in Bangkok followed a general format that we settled into quite easily: breakfast nearby, tourist trail, lunch, massage, pool, dinner, bed. Our hotel, Casa Nithra, was in the old side of the city about 15 minutes walk to Khao San Road (for lack of a better landmark – more about that later!) There were plenty of great restaurants in the surrounding streets that varied from super-local to nice tourist friendly (ie with air conditioning!) And then of course all the street stalls. Hunger was never an issue! We did find a favourite place that we went to a few times. We nicknamed it El Niño since there was a hilarious kid serving us. Everyone is so nice and we are definitely enjoying our food!
In terms of the tourist trail we concentrated on the old area since we'll have time in the new part at the end of our trip. From the hotel we walked to the river and walked along it as far as we could then deviated to the the big park that leads to the Royal Palace. Bangkok is all decorated in preparation for the Queen's birthday on August 12. It is also Mother's Day. In the park there was a big stage set up and they were rehearsing for the celebration. We saw the cutest kids doing a traditional dance.
From the Royal Palace area we took the ferry across the river (3 B) to Wat Arun and saw that temple area. I'm not sure of the name of the Wat that is beside Wat Arun but it was a really peaceful introduction to Thai temples.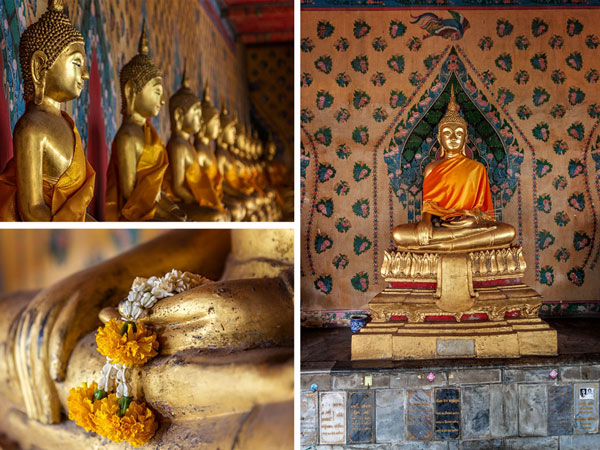 Wat Arun was much more crowded but still cool.  The steps up were crazy so I only went to the first level!! The temple was much more colourful than I imagined it with all the porcelain bits.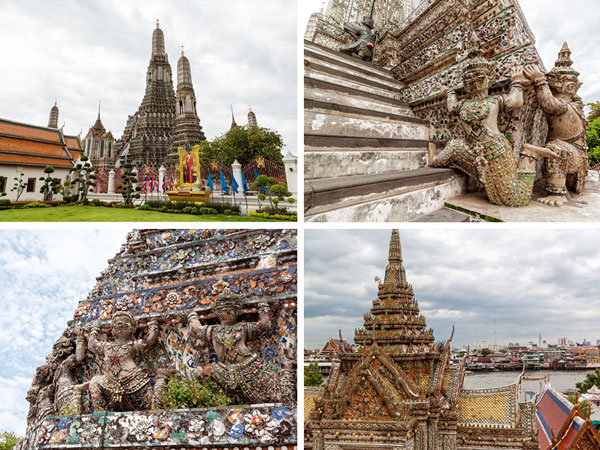 We then crossed back over on the ferry and saw Wat Pho and the reclining Buddha in all its glory. Wow. Seriously amazing!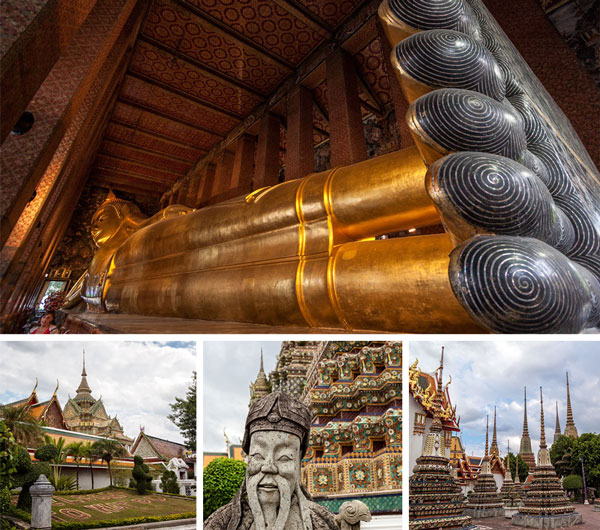 We were pretty hot and sticky by this point so we hopped in a taxi back to the hotel (50 B) and hit the pool! It is on the rooftop of the hotel so great views and a very pleasant cooling breeze. In fact we were chilled when we got out!  Watching the sun set from up there was great. In fact we never did make it to any other sunset spots these days. The hotel is great (no breakfast included and the one on offer was waaaay overpriced at 250 B per person but with all the options on the doorstep that is more of an advantage than a disadvantage!) It's a new hotel so everything is new and modern.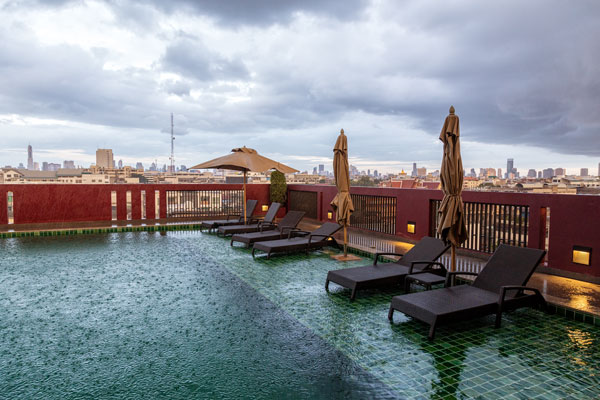 Day 2 had us in a taxi first thing in the morning to the Royal Palace (43 B). Even though it had just opened at 8:30 it was still crawling with people and very hot!!! The sun was shining and we had blue skies! The palace area was spectacular. Everything was so colorful and vibrant against the backdrop of the blue sky. We spent a good two hours exploring all that we could before finally retreating to cool down with a mango shake!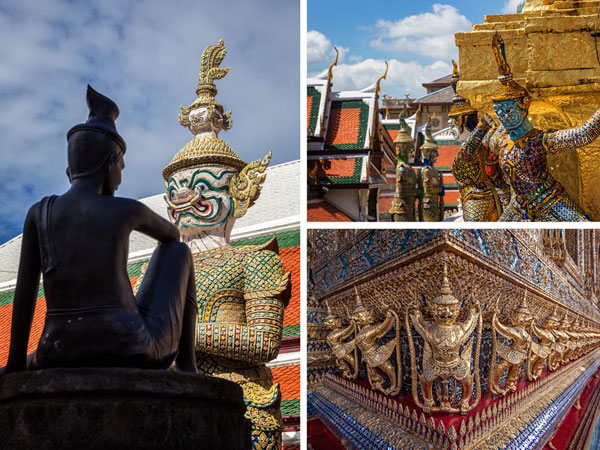 Refreshed, we set out on foot to Wat Suthat and the Giant Swing. We really found the temples to be fascinating and the devoutness of the people inspiring.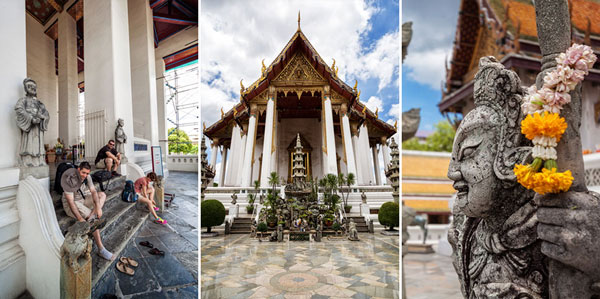 After the Giant Swing we went to the Golden Mount which is nearby. We were honestly left a little neutral from the experience but it is an easy climb up and worth a look for the views.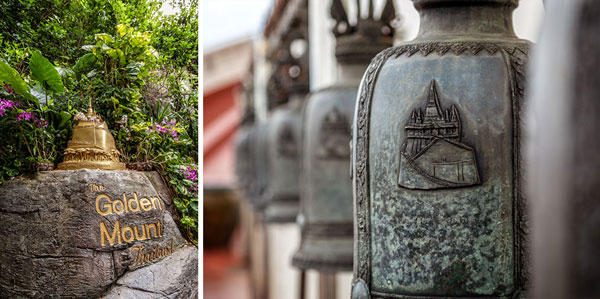 We hopped a taxi home (50 B) and had our first lunch with El Niño. We also had our first downpour of rain! Luckily all it meant for us was that we could order dessert! The fried banana…..oh.my.!!!!
Then it was time to see what this massage thing is all about!!! We actually just did back, shoulders, and head for 250 B on our street. It was a good experience with only a few strange contortions thrown in!! The four of us were in a row and we must have made quite the sight!!!!
This was the night we decided to check out Khao San Road. We have never felt so old!!!! Just one party after the other and we definitely weren't exposing enough skin!!!! We walked the length of the street and got out as fast as we could!!! We retreated to our neighborhood and had a nice peaceful dinner!
We spent our final day touring the khlongs in a longboat. I'm quite sure that we paid too much (700 B each for 1.5 hours in our own boat) but we just couldn't be bothered to either barter it down or find another departure point!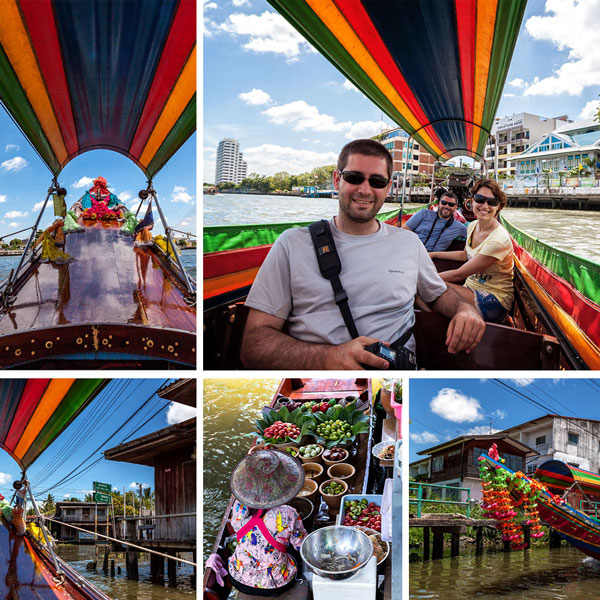 The canal life was really interesting. And terrifying when we saw the enormous lizards (more like crocodiles) that were swimming below us! Enormous!!!!! We stopped at the Taling Chan floating market. Everything looked delicious but we were still quite full from breakfast (I have to stop eating these massive rice soups!!)
After the longboat we grabbed the orange flag bus/boat to go to Chinatown.  We went with the cheap/local option so it was pretty crowded but it did the trick!  We were on the right side of the boat to see Wat Arun as we motored by.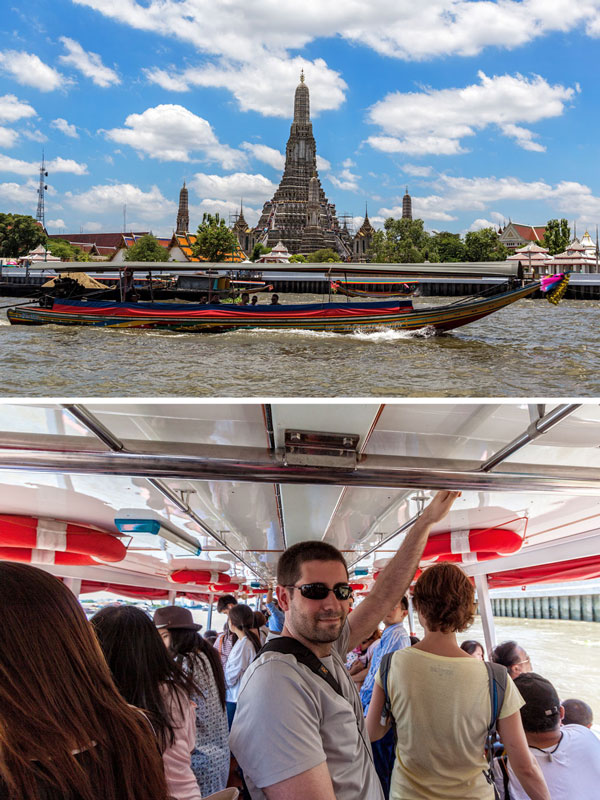 Once we arrived, it felt like we had gone back in time to our trip to China!  We wandered the market lined sois and marvelled at the Canadian cherries – for real?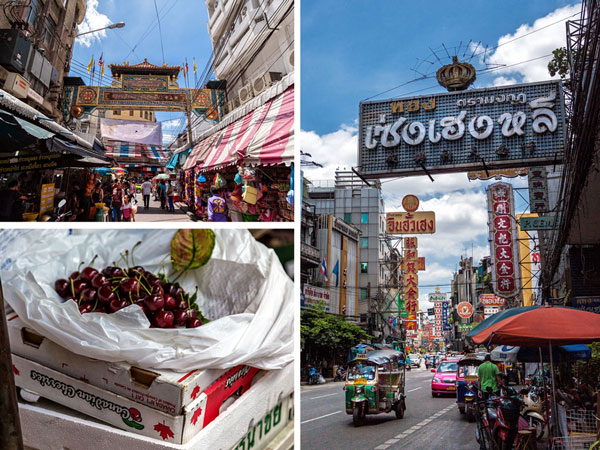 Finally hunger got the better of us and we found a great place Hua Sen Hong to indulge in our Chinese duck love. In the cabinets there were packages of "Birds Nests" for sale. We asked about them since they were insanely expensive or at least they appeared to be unless we were reading the labels wrong. From what we could tell, they put them in soups. I just asked google and they are indeed bird's nests that average $2500 per kilo. Yowzas!!!!
This day's afternoon massage activity of choice was a foot massage. I was quite reluctant since I'm just getting over tendonitis in my ankle but it was great. A lot of the points that she touched in the ankle area were exactly those that the doctor did in Madrid and it didn't hurt so all was good! She did leave bruises on my calves though!!! 200 B for a hour.
There were fireworks tonight for the Queen's birthday but it was raining! We didn't try to see them (although we did see some right from our hotel window). We hoped that the show in the park was a bit earlier in the evening so that they didn't get too wet!
And that was Bangkok! Overall we enjoyed it and thought the traffic and getting around would be so much worse. Being a holiday on Tuesday we suspect that the city was actually quite empty since its traffic infamy can not be based on anything that we experienced! Looking forward to exploring the bright and shiny side at the end of our trip!
EDIT:  Traffic in Bangkok is ATROCIOUS!!!!!  At the end of our trip we experienced the legendary traffic jams in all their glory.  45 minutes to turn at one intersection!!  Holiday weekends are the way to go for sure!  🙂