Sawasdee Ka!!!
As hard as it is to believe, we find ourselves once again preparing for summer vacation!! Tomorrow we are off to exotic Thailand and the excitement in the house can barely be contained. In fact, I've been packing for a week already because I just couldn't wait….! I've also been listening to the audio samples on www.thai-language.com in an attempt to identify and replicate the tonal variations of the language (spoiler: no success!)
This will be the first time for all of us to set foot in the Land of Smiles, and we are sure it won't disappoint. The first bit of excitement (geek warning!!) comes in the form of the Emirates A380 aircraft that we get to fly in from Dubai to Bangkok. Unfortunately we'll be experiencing it from the lower deck (i.e. economy) but just to be in it will be awesome!! We fly overnight from Madrid to Dubai and then after a 2 hour layover continue on to Bangkok arriving in the early evening. Javi and Virginia are flying from Barcelona and the flight schedule has them about 7 hours ahead of us every step of the way – so hopefully they'll have the perfect street stall picked out for dinner when we arrive!!!! 🙂
We will be 20 days on the ground and will visit Bangkok, Ayutthaya, Sukhothai, Chiang Mai, Koh Samui, Koh Tao, and finally end up back in Bangkok for a night. I'm definitely excited for everything but a few things stand out: our day at Elephant Nature Park (www.elephantnaturepark.com) where we will be able to see and help take care of rescued elephants (no rides or unnatural behaviour here), the historic city of Sukhothai looks amazing, and our planned island adventures all top my expectation list. Stay tuned!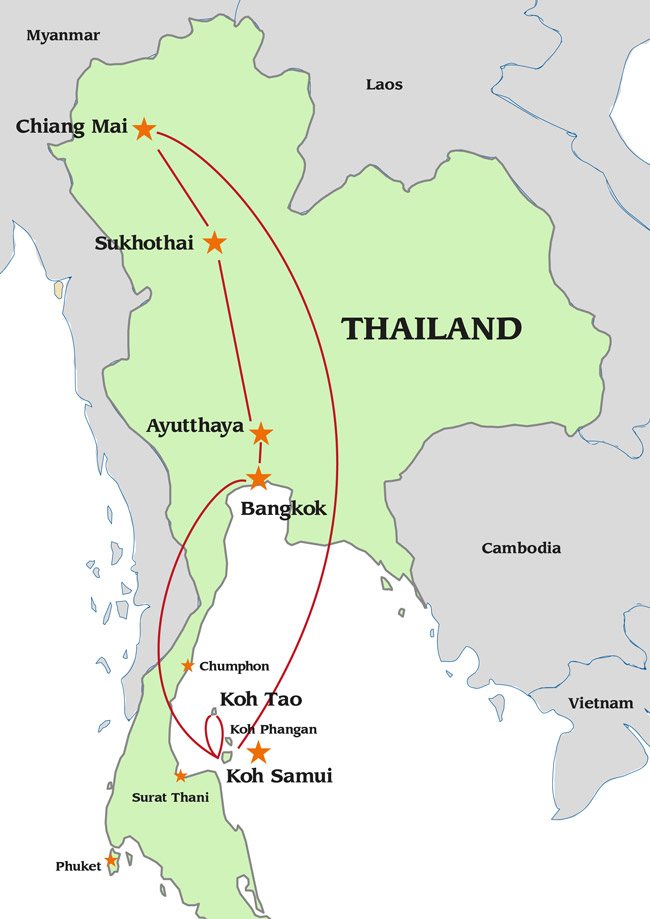 And now to put the finishing touches on the luggage. As usual, our photography equipment will weigh more than our clothes (that beautiful tripod is a gym membership on its own!) So until Bangkok, stay cool! Speaking of which – we will be leaving behind 36ºC with 15% humidity in Madrid and saying sawasdee to 32ºC with 74% humidity!!! Between the humidity and the rainy season, every day will be bath day!! We keep saying that it can't be any worse than China….time will tell!