For a while now we have been thinking of upgrading/changing our checked baggage arrangement.  We have always travelled with a checked backpack each (one big enough to fit the tripod and another carry-on size – about 70 L total).  However, the problem with backpacks is that …. they are designed for backs (!) and when your back is already occupied with a camera bag, things can get awkward.  And so began the quest to find a duffel-type bag that is comfortable to carry on a shoulder or in the hand, thus liberating ourselves of surplus straps and dangling cords.
Many hours of research and wishlists brought me to Humboldt Viajar Seguro, a travel equipment store in Madrid (Plaza Cascorro, 9, La Latina). Walking in is a bag-lover's dream come true!  Especially when the first items on display are from the Pacsafe collection.  Pacsafe is well-known for their extra security features and quite frankly nice-looking products. We already had the 5 L Travel Safe in our travel rotation, which was worth its weight in gold for peace of mind – especially when we encountered room safes that were nothing more than a completely moveable box in the wardrobe (I'm looking at you, Chiang Mai!)
And so I finally found what I hope is the *perfect* bag (tripod size) with the Pacsafe Duffelsafe AT45.  I brought the tripod with me to make sure it fit, and I can tell you that carrying it home was much more comfortable than carrying it into Madrid!  But I didn't stop at the Duffelsafe as there were some sales on and who can resist a sale?? We ended up expanding our camera bag repertoire (can you really ever have too many? The answer is probably yes, but maybe I'll save that soul searching for another post!) and as of right now, I am firmly in the Humboldt and Pacsafe camp!  I can't wait to use them all!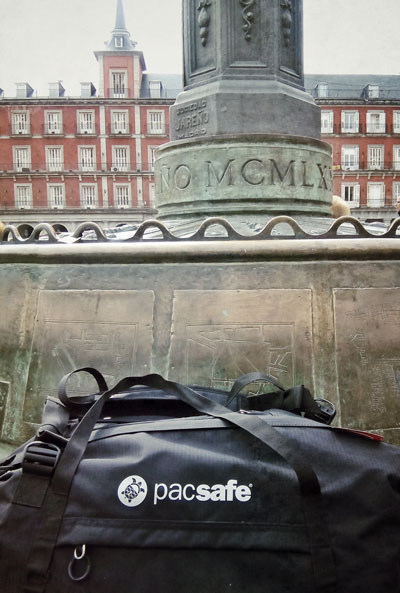 A run-down of the purchases:
Duffelsafe AT45 (duffel bag) – at 45 L and 55 cm long, the perfect size to transport our tripod (Manfrotto 190XPROB) along with clothes, shoes, etc.
Camsafe V17 (camera backpack) – a slim backpack to carry one camera in the bottom half and ample space in the top for accessories or a change of clothes.  Laptop compartment for 13" laptop.
Camsafe V18 (sling bag with camera compartment) – a non-backpack day bag for Carlos … honestly, a bit of an impulse buy!
Camsafe V6 (top loader bag) – this goes in my carry-on/day backpack to convert it into a camera backpack.
Camsafe VP (compact camera pouch) – for either our little Canon S120 that never had a place to call home or the GoPro depending on the situation.
Once we've had a chance to actually use everything, I'll come back with some reviews and recommendations.
P.S. This sounds like a sponsored post, but it's not! We used our actual real money to buy these items.  🙂