To all you wanderers out there seeking beauty, nature, and adventure, look no further! British Columbia and the Rocky Mountains are all you need!! 2017 is the perfect year to explore since Parks Canada is offering free admission to all of their sites (this includes National Parks) to celebrate Canada's 150th birthday. What are you waiting for? Get out there!!
A lifetime would be an ideal timeframe to explore this wonderland, but recognising that this is rather unrealistic, a 2-week road trip is a great place to start. We started and ended our 2,550 km circuit in Vancouver where we had a few days on either end to discover why the city consistently appears on the best places to live list. Fabulous!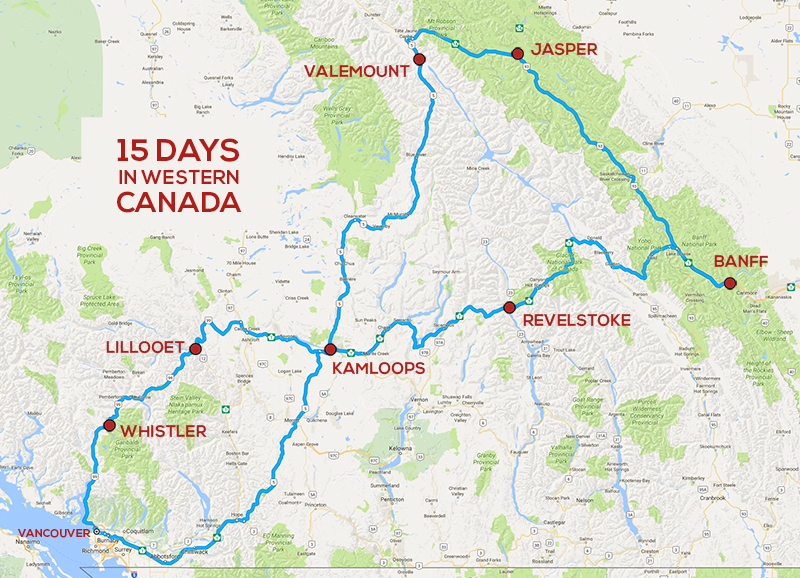 Here is the breakdown of our 15-day itinerary with distances travelled:
Day 1-3: Campbell Hills Guest Ranch, Kamloops (340 km)
Day 4: Wells Gray Provincial Park (428 km)
Day 5: Mount Robson Provincial Park (142 km)
Day 6-7: Jasper National Park (203 km)
Day 8: Icefields Parkway (260 km)
Day 9-11: Banff National Park (137 km)
Day 11 (Part 2): Yoho, Glacier, and Revelstoke National Parks (364 km)
Day 12: Driving day from Revelstoke to Lillooet (387 km)
Day 13: Duffy Lake Road & Joffre Lakes (138 km)
Day 14: Whistler (0 km!)
Day 15: Whistler to Vancouver (156 km)
No western adventure is complete without calling on your inner Clint Eastwood! So don your cowboy boots and mount up! Campbell Hills Guest Ranch is the perfect place for new and experienced riders alike. They teach natural horsemanship at the ranch so you are always in partnership with your horse. As if the natural beauty and riding adventures weren't enough, meal times are also a highlight with camaraderie and delicious food.
Campbell Hills Guest Ranch is perfectly located: close enough to Kamloops (30 km) to be accessible but far enough away to have a feeling of solitude. The ranch offers transfers to Kamloops if you don't have your own car.
Total driving: 400 km / 4 hr 45 min (not including the 30 km on horseback!!)
Where we stayed: Campbell Hills Guest Ranch (2 nights) & Travelodge Kamloops (1 night after the ranch)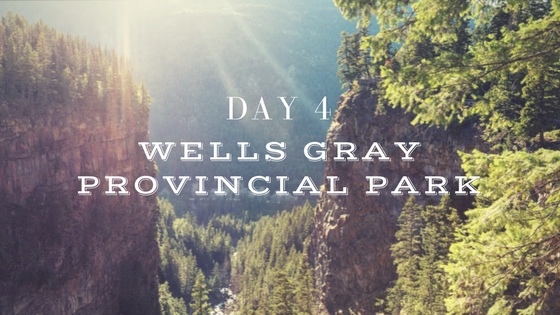 Wells Gray is famous for its Helmcken Falls (4th highest in Canada) along with a host of other waterfalls and trails to be explored. Our 6 hours in the park were spent walking the trails around Helmcken Falls, Dawson Falls, and Spahats Falls, and taking in the views from Green Mountain Tower. Our long day ended in the sleepy town of Valemount perfectly poised on the border of Mount Robson Provincial Park.
Total Driving: 428 km / 5 hr 45 min
Where we stayed: Super 8 Valemount (1 night)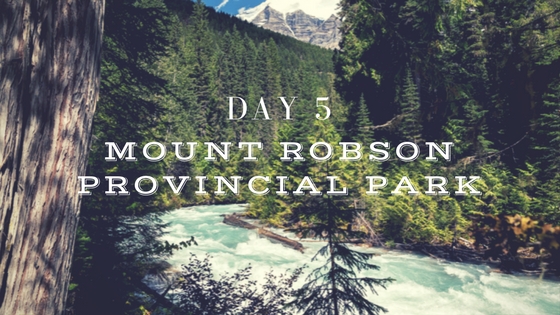 At 3,954 m Mount Robson is the highest point in the Canadian Rockies and is a sight to behold. The park entrance is a mere 20 minute drive from Valemount (or nearly 2 hours when you have a car full of photographers and Terry Fox fans wanting to pay homage to the Canadian hero at the viewing area for his mountain…..!) The spectacular view of Mount Robson at the entrance sign is one of those iconic Rocky Mountain moments. Be sure to stop in at the Visitor Centre for hiking information and another beautiful view from the back terrace. After our lovely walk to Kinney Lake we continued on to Alberta and stayed the next 2 nights in Jasper.
**Don't forget that the clock goes ahead by one hour to Mountain Time when crossing the Alberta border.**
Total driving: 142 km / 2 hr 30 min
Where we stayed: Pine Bungalows, Jasper (2 nights)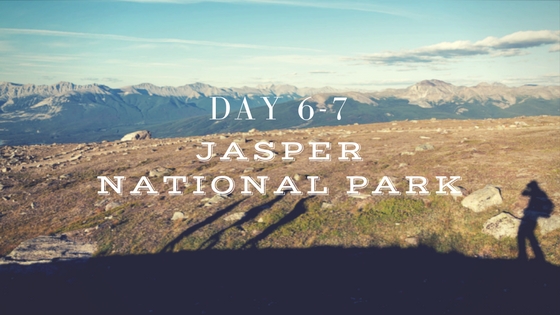 Where to begin?? Jasper National Park is the largest National Park in the Rockies and does not disappoint. The first day was packed full of beauty with visits to majestic Maligne Lake, fascinating Medicine Lake, dramatic Maligne Canyon, and topped off with a bird's eye view from the SkyTram Summit Trail. Our second day brought us to Mount Edith Cavell and the incredible Meadows Trail where we averaged 2 photos per minute (actual statistic!) We rounded out the day with the thundering Athabasca Falls and Sunwapta Falls. We spent the night at Sunwapta to get a head start on the next day's Icefields Parkway adventure.
Total Driving: 203 km / 4 hr 45 min
Where we stayed: Pine Bungalows, Jasper (2 nights) & Sunwapta Falls Rocky Mountain Lodge, Sunwapta (1 night)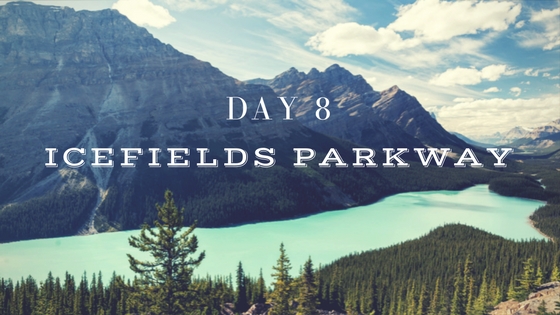 Another big player on the list of iconic Rocky Mountain experiences is the famed Icefields Parkway from Jasper to Banff (or vice versa). There is no other road like it in the world with its constant panoramas of mountains, waterfalls, glacial lakes, and if you're lucky, some wildlife. The spectacular view of Peyto Lake from Bow Summit and a shore-side stroll at Bow Lake are not to be missed.
No trip on the parkway is complete without a visit to the Columbia Icefield Discovery Centre, which is also the starting point of the Glacier Adventure. It costs a pretty penny (a cool $90 per person in 2016) but you get to see the Athabasca glacier up close and personal and ride the gigantic Sno-Coach. Inflating the price considerably is the non-optional Jasper Skywalk attraction. We rather resented that aspect but in the end we still had fun and enjoyed the Skywalk even though it would not have been our choice to go.
Total Driving: 260 km / 5 hr
Where we stayed: The Moose Hotel & Suites, Banff (3 nights)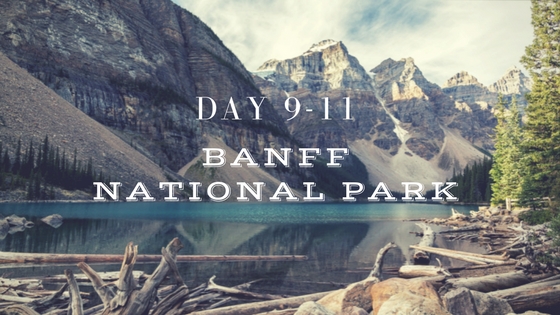 Arriving in Banff we were quick to realise that there aren't enough superlatives in the English language to cover this trip! As Canada's oldest National Park, Banff is truly a national treasure. We started with a sunset visit to Lake Louise and then a trip down the Bow Valley Parkway to the Banff town site where we stayed for 3 nights.
At this point we were happy to have a car-free day and enjoyed a shopping day in Banff capped off with a sunset soak in the roof-top jacuzzi pools at the Moose. Recharged, we tackled the Plain of Six Glaciers and Lake Agnes trails at Lake Louise. And just when we thought it couldn't get any better, we went to Moraine Lake and had our socks knocked off – yet again. I'm still rubbing my eyes to check it was real!
Total Driving: 137 km / 2 hr
Where we stayed: The Moose Hotel & Suites (3 nights)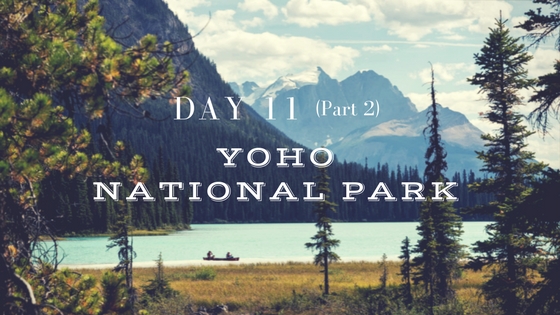 After our spectacular visit to Moraine Lake, it was time to bid farewell to Alberta and cross back into British Columbia and explore Yoho National Park. The first point of interest is actually man-made for a change! The Spiral Tunnels were completed in 1909 and allow the safe ascent and descent of trains through the Kicking Horse Pass. If your timing is right, you can see a train going through and have fun trying to determine whether it is coming or going.
Less than 20 minutes off the main road is Takakkaw Falls. Well-worth the detour, there are trails and excellent picnic facilities to enjoy. Continuing westwards, Emerald Lake is the jewel in the Yoho crown. We took a few hours to complete the lake circuit (there may have been a lake-side siesta included…!) It was the perfect way to end our time in the Rockies.
We still had a beautiful drive ahead of us as we continued through Glacier National Park and Revelstoke National Park. The Rest Area at Rogers Pass was very informative and a friendly ground squirrel thoroughly entertaining!
**The clocks change back one hour to Pacific Time at Glacier National Park**
Total Driving: 364 km / 5 hr 30 min
Where we stayed: Revelstoke Lodge (1 night)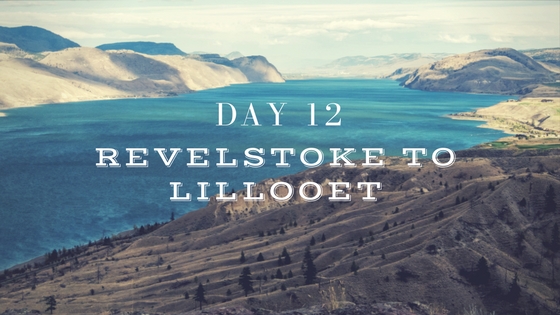 This was our big driving day to Lillooet with little sightseeing. However, leaving Revelstoke it is impossible to resist a stop at the Last Spike in Craigellachie. This is the site where the ceremonial final spike was driven into the Canadian Pacific Railway back in 1885.  We also stretched our legs after Kamloops at Kamloops Lake with views over the beautiful landscape. It was amazing how much the terrain had changed in less than 400 km.
Total Driving: 387 km / 5 hr
Where we stayed: Mile-0-Motel, Lillooet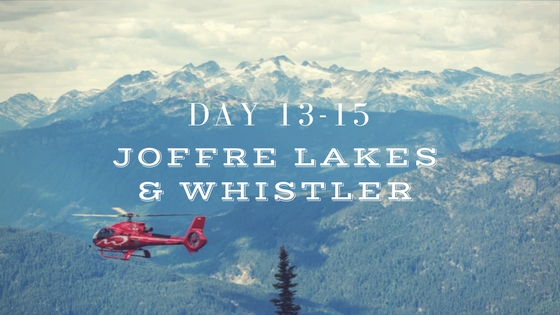 Our weather wasn't the greatest as we set out from Lillooet to drive the famous Duffy Lake Road to Whistler. As a result we kept our eye on the goal: the Joffre Lakes hike. We took about 4 hours to hike to all 3 lakes and back. Then it was on to Whistler and a relaxing evening in the village. Our full day was spent on the trails of Whistler and Blackcomb mountains, which are joined by the staggering Peak 2 Peak Gondola. After a final relaxing morning it was time to return to Vancouver and officially finish the epic road trip with a sushi feast!
Total Driving: 294 km / 7 hr (there was a 2 hr traffic jam to get across Vancouver!!)
Where we stayed: Summit Lodge, Whistler (2 nights)