The day I was most looking forward had finally arrived: our adventure at Elephant Nature Park (ENP – www.elephantnaturepark.org).
ENP is a very special place about 60 km from Chiang Mai.  It is there that a young woman named Lek started a refuge for elephants.  Many people don't realise the brutal process that an elephant must go through in order to be trained to carry tourists, paint pictures, dance, or whatever else they are forced to do beyond their nature.  Lek endeavours to put an end to this torture and captive lifestyle by providing a safe haven for rescued elephants to live.  There are several programs that visitors can participate in and contribute to the cause.  We chose to experience the park through the Pamper a Pachyderm one-day program.  This special program began in early 2014 through the collaboration with a neighbouring trekking camp run by Muoy who decided to turn her focus to care and refuge.  Up to 6 people per day are given the opportunity to spend time with this small elephant herd.  On our day, there were 5 female elephants to befriend along with several at the end of the day at Elephant Nature Park: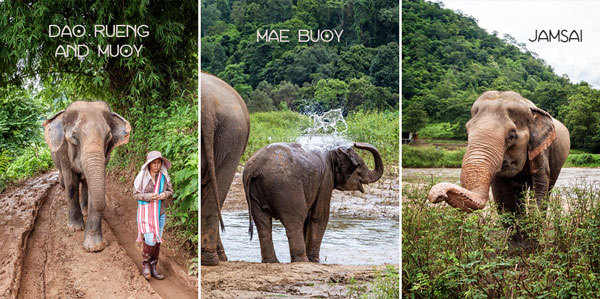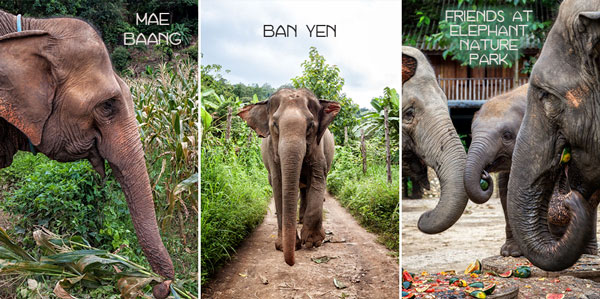 Our guide, Ging, picked us up at the hotel in a spacious van for the 1.5 hour drive out to the park.  To make up our group of 6 we were joined by a couple from Holland.  While en route we were shown a documentary about ENP and the plight of the Thai elephants in general.  One thing we learned is that elephants have very sensitive feet and can perceive even the slightest tremor in the ground.  This causes them extreme discomfort and anxiety in cities and towns where the constant passing of cars and people results in constant vibrations.  Poor things!!  After the movie, Ging walked us through the plan for the morning including instructions on how to interact safely with the elephants.  The takeaway message was to never stand behind, between, or in front of the elephants – always stay beside their head so they can keep an eye on you.  The funny thing is that no matter how hard we tried, we always ended up behind, between, or in front of them!!
Finally we arrived at Muoy's camp.  Before meeting the herd, we swapped our shoes for some heavy duty rubber boots.  Or at least some of us!  There wasn't a pair small enough to fit Virginia so she kept her regular shoes as did the Dutch.  Ging was non-committal as to whether the boots were mandatory or not!
Before we knew it, the elephants were with us!  Each one had a bucket of fruit waiting for them (mainly watermelon with some pumpkin thrown in).  Our task for the next 10 minutes was to shovel as much food as possible onto our elephant's trunk and watch as they expertly manoeuvred the pieces into their mouths.  Amazing!  Witnessing the dexterity and precision of the trunk was one of the most fascinating parts of the day.  I was feeding Jamsai until Ban Yen ran out of food and then moved in on Jamsai's territory!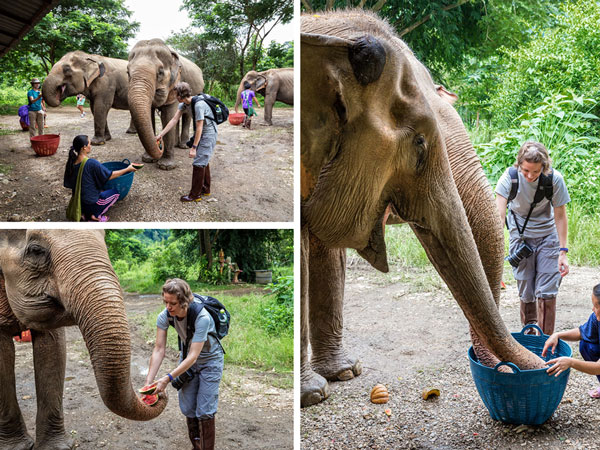 Once the buckets were empty, we picked up our banana bags and headed off for our walk along the river and into the forest.  The elephants were pretty unfocused until they sensed bananas in the offing and then they were laser targeted on us!  It was our duty to walk ahead and feed them to keep them on the right track.  It seemed incredible that they were still hungry after the massive bucket of fruit but then we learned that they can eat up to 300 kg of food per day!  We definitely weren't carrying that many bananas!!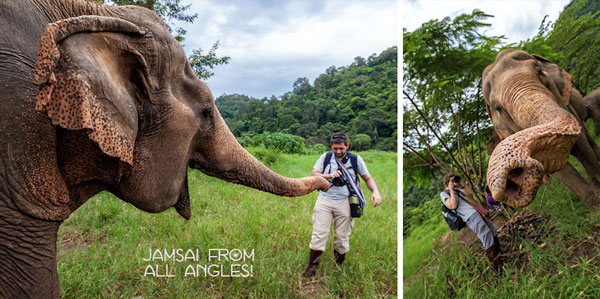 Mae Buoy is just 4 years old and was so cute with her food while her adoptive mom, Mae Baang, was all business.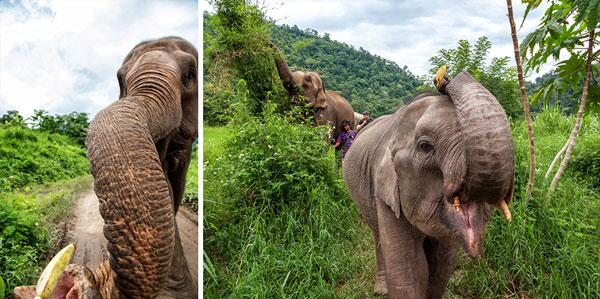 Before long it became clear that rubber boots were not actually optional….there was a river to cross!  Well, it was more of a large stream but regardless of the size, water is water.  Virginia hopped on Javi's back and he was henceforth known as the Elephant!  His true destiny even manifested a few days later when he backed into Virginia and broke her toenail….see? you should never stand behind an elephant!!  🙂  And speaking of which, at the moment of the river crossing, I was trying to get closer to document the occasion, but found myself blocked in by elephants.  oops!  🙂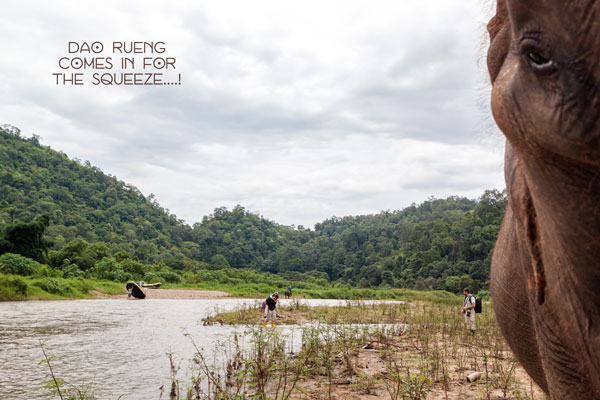 After a second smaller crossing, I got caught between Ban Yen and some foliage.  Unsure about how to get around her, I decided to just stay put until she moved on.  Unbeknownst to me, it is in this exact spot that she always plays in the dirt and leaves!!  Next thing I knew, I was covered head to toe in dirt!  It was awesome!!!  🙂
At one point we passed a corn field with people harvesting by hand.  Keen to help out, the elephants each ripped out several stalks at a time…and ate them.  OK, so maybe not helping out after all!  They love their corn.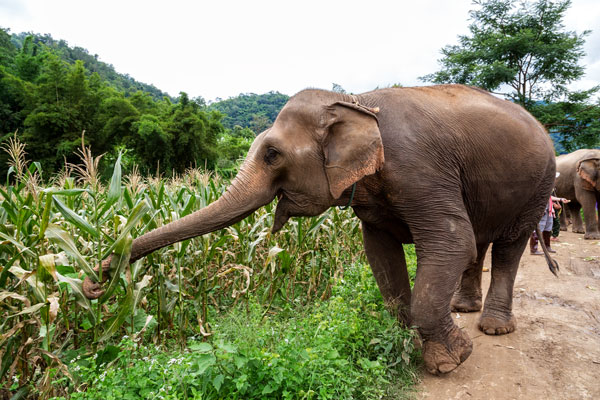 I was walking with Dao Rueng and Muoy at the time and she lamented that she has to pay the farmers back for any damaged or eaten corn (Muoy was lamenting, not Dao Rueng!!)  Dao Rueng is the first elephant that Muoy has rescued.  She found her working on the beach in Phuket and brought her back to Chiang Mai for a better life.  You can read the story of her rescue here.  She is an old dear and we enjoyed the leisurely pace that she set (waaaay behind that of Mae Buoy the fiesty 4 year old!!!)  After about an hour, we arrived at a forest hut where we would have our lunch.  The elephants went off to their own private dining and we enjoyed a delicious meal of rice, noodles, curry and vegetables.  The hut overlooked the river and the actual site of ENP.  We could see herds of elephants bathing along with herds of water buffalo.  It was all pretty surreal.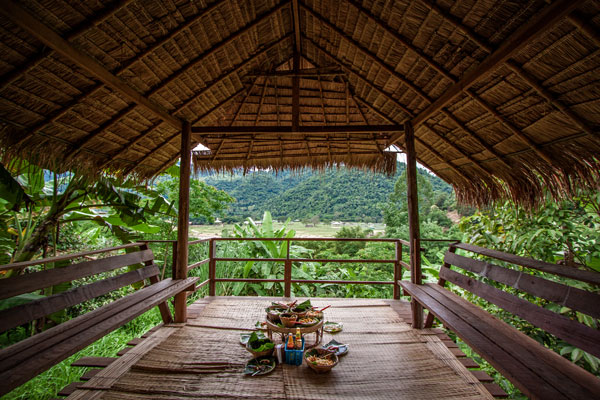 After a little siesta/rest we set out back down the hill to return to the camp.  We mainly walked with Ban Yen this time.  Words really can't describe the feeling of walking alongside these gentle giants.  We are still mesmerised by the trunk.  The most shocking trunk-related experience is the first time they blow on you….it is a face-full of hot air with a rush of sound that usually happens so fast that you barely have time to close your eyes.  Amazingly (thankfully) though, their breath doesn't smell!  We had all run out of bananas by this point so it was hard to keep the ladies focused.  Their trunks were always probing the colourful bags around our shoulders hoping for the miracle of the banana….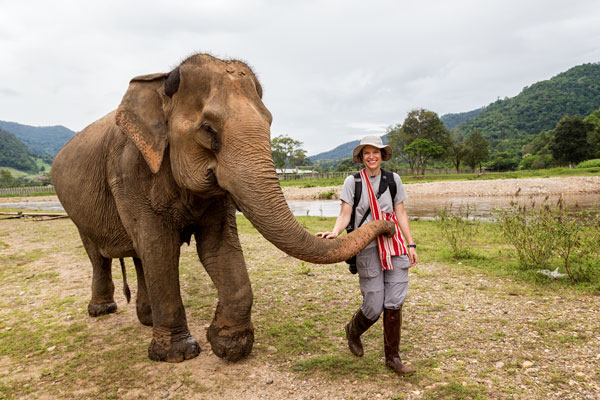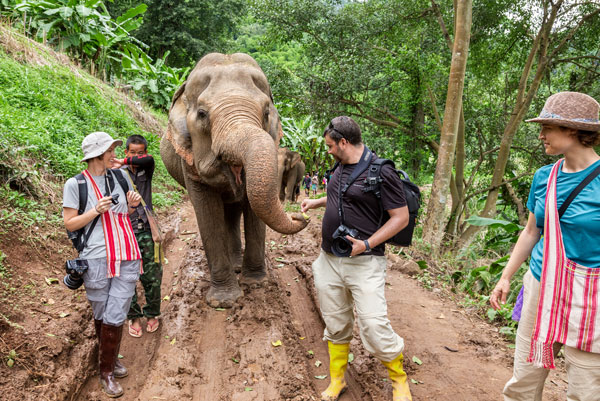 The final item on the agenda before heading back to camp was a nice bath in the river.  Jamsai really got into it with a full immersion whereas Ban Yen was a little more tentative in her approach.  Of course, Mae Bouy was spraying herself and those around her with her trunk (kids!)  I should mention that there was only one trumpet sounded from our group…we were about 20 m back and wow was it ever loud!!  It pierced through the air and we were a little relieved that we weren't any closer.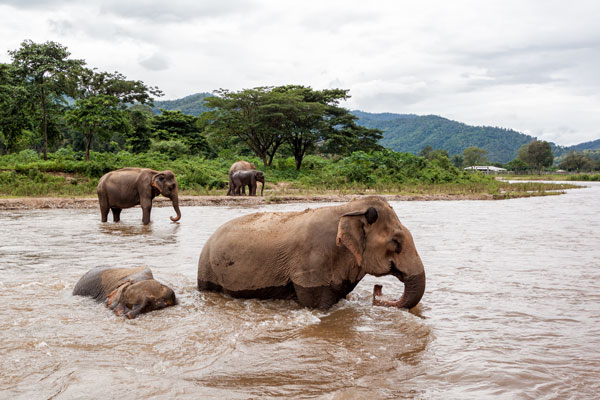 All too soon it was time to say goodbye to our new friends.  The memory of this day will stay with us forever though.  And it wasn't over yet!
Even though we were mere minutes from ENP, we hopped back into the van a drove for 20 minutes upstream whereupon we were going to "head back to ENP on a river raft" (as the website says).  I had interpreted this as a raft that goes down the river, much like the River Li in Yangshuo or perhaps one of the bamboo rafts we could see from the van as we motored that morning.  But no, this was a white water raft!!!  It was an absolute riot and we were absolutely soaked through.  So much fun!!  I think there could have been a little more clarification about the activity though so that we could have at least put our bathing suits on – or at least zipped off our trouser legs!  Ging just suggested that we put flip flops on!  🙂
Once at ENP, we watched an elephant herd have their afternoon snack of watermelon and pumpkin.  The herd include little Navann who was born at the park in 2012.
It was then time to get changed into dry clothes and begin the journey back to Chiang Mai.  This day was one of the best ever…just to be able to have this contact with the elephants was awe-inspiring and humbling.  I can only hope that the word spreads and more people support initiatives like this instead of contributing (albeit unknowingly in most cases) to the abuse and mistreatment of those elephants who still perform in the tourist industry.  More information on the programs available can be found at www.elephantnaturepark.org.
If I ever find myself back in Thailand I will surely make a return visit…in the meantime, I have my statue of Jamsai, hand-carved by her mahout, to remind me of the magical experience.