The next stage of our adventure brought us south to Koh Samui in the Gulf of Thailand.  We paid the big bucks to fly directly from Chiang Mai on Bangkok Airways (200 €).  100% worth it!!  Much to my delight, there was a Dairy Queen at the airport!  This seems to be a trend in South East Asia since we also found one in Phnom Penh back in 2010.  I could only convince Javi to indulge with me (after all it was only 10:30 am!)  You'll note in the photo that we are wearing our "elephant pants".  These baggy pants in millions of different prints are found all over Chiang Mai.  It seems to be a rite of passage to buy a pair – even for the men (although Carlos was having none of it!!)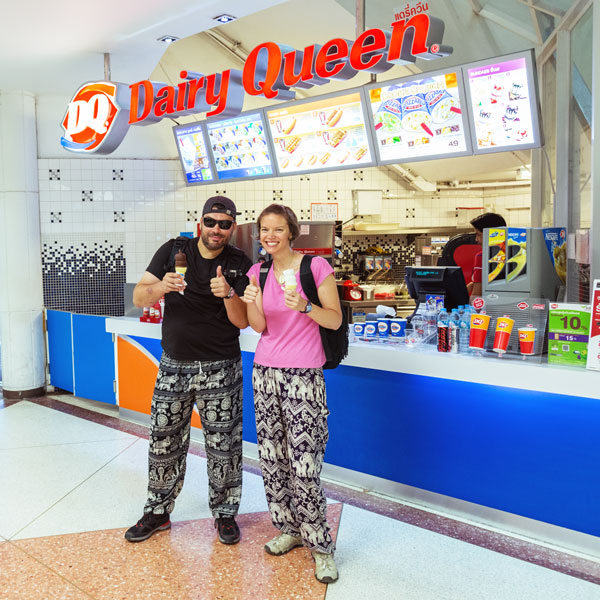 We left at 12:30 pm and had a nice 2 hour flight complete with lunch and great clouds!!  As we took off, we could see Doi Suthep and the temple from our side of the plane.  The land was amazing as we made our way south…very fertile and a constant agricultural presence.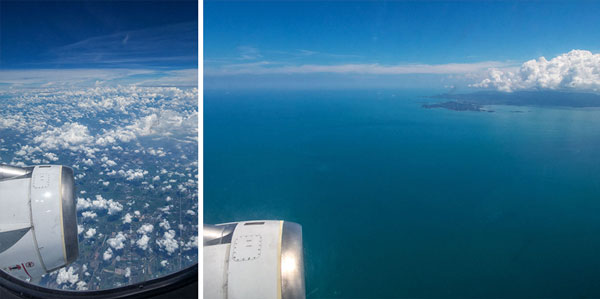 Before we knew it, we were on the ground and ready for island life!  We had booked a transfer through our hotel, Hotel Pelegrin.  This is a small hotel run by a Russian family.  It is inside the Fisherman's Village of Bophut and ideally situated for village life.  It was certainly basic, but it was clean and fulfilled our needs entirely for this short stay of 2 nights.  Carlos and I even dared to book a fan room instead of air conditioning just to see what it was like.  It was definitely warm but the fan was powerful and we managed to stay comfortable.  Our room had a little balcony with a clothes line so it was perfect for a bit of laundry.  The sun even came around at the end of the day for some extra drying power.
We went to the beach for the afternoon and had a dip and a walk.  The water was like a bath!!  We walked all along the beach and ended up at a beach bar for a shake to hydrate us for the return.  It was a tricky beach to walk on since it was quite sloped and the sand was really coarse.  On the plus side, we now have perfectly exfoliated feet!
Friday night in Bophut is…you guessed it….Friday Night Walking Street!  Town was buzzing and it was a great vibe.  We weren't really in the market for shopping so we just treated it as entertainment.  We ended up at the Smile House Hotel restaurant and had our dinner right on the beach.  It was a very pleasant evening watching people send up lanterns into the dark sky and hearing the waves breaking on the shore.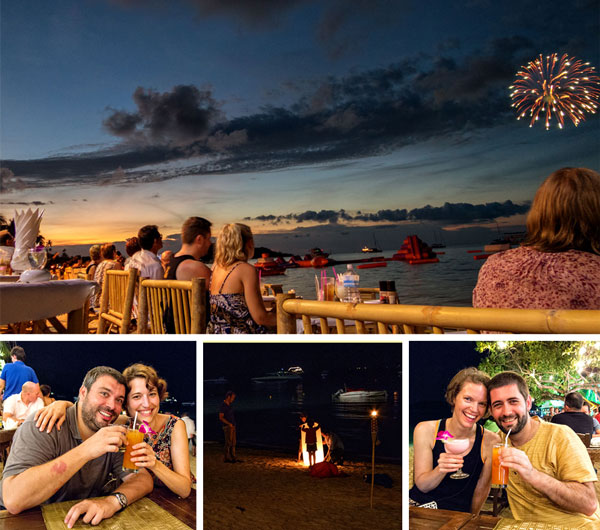 Saturday morning dawned somewhat ominously – the clouds here are out of this world!!  We had booked an excursion to Ang Thong Marine Park for today – essentially the only reason why we came to Koh Samui. Our tour operator of choice was 100 Degrees East (www.100degreeseast.com) and right from the first contact with Caz back in April, they were an absolute pleasure to work with.  And most importantly, the day out was fantastic – but I'll get to that!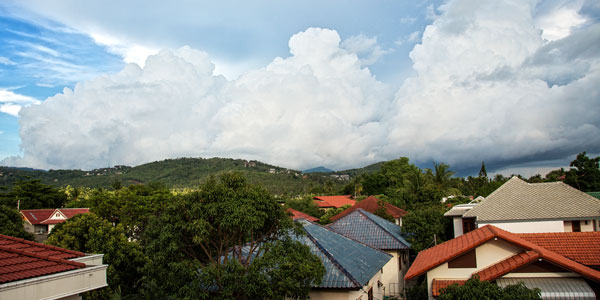 We were picked up at 9:10 am and driven to the 100 Degrees East base in Big Buddha Beach just 10 minutes away.  We filled in our waivers and got fitted for our snorkel gear as the group assembled.  This was a speedboat trip so we were a small group of 10 hailing from Spain, Canada, Switzerland, England, and Australia.  Our guide/cruise director/boat master was Milla from Finland.  During the journey we had a few moments of anxiety when a massive storm cloud blew over the islands where we were headed…we could see it coming and we could only hope that we would see it leaving too!!!  Thankfully we did!  The day was absolutely perfect.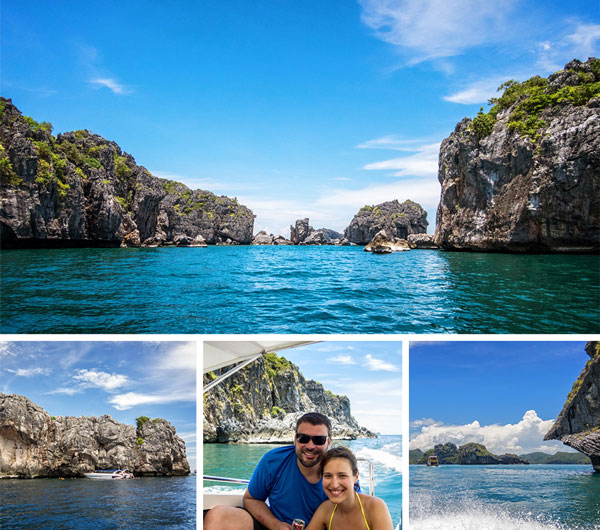 It took just under an hour to get to our first stop of the day: snorkel time!  When we arrived, there were a couple of other boats in the area, but by the time we got sorted out we were all alone.  All alone above the water that is!!!  Below the water was a different story!  Never in all my snorkelling experience have I seen so many fish and marine life!  It was quite simply breathtaking.  And also hard to describe.  Fish zooming every which way and visibility like you wouldn't believe.  Milla said that she had almost never seen it as clear before.  We were so lucky!  We snorkelled into caves and marvelled at the changing light with every ebb and flow of the waves.  I could go on and on forever, but I'll spare you!!
In the end we were in the water for almost an hour.  Even so, it was a struggle to tear ourselves away from the magical world under the sea (cue: steel drums and Sebastian).  Back on board, we traveled about 10 minutes more to our kayak location.  We did a 40 minute circuit to build up our appetite for lunch.  Our leader kept close to the cliffs and rock overhangs (to grab some much needed shade while waiting for the group to catch up) so it made for some precise kayaking.  Carlos did a great job steering!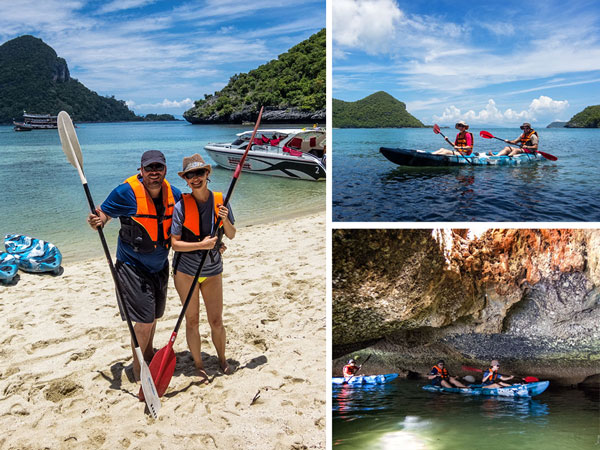 Once we surrendered the kayaks, we jumped back on board the speedboat for a few minutes to travel to our picnic lunch location on Samsao Island.  It was a perfect slice of paradise accompanied by fantastic food including the best fried chicken I've had in a long time (or ever?)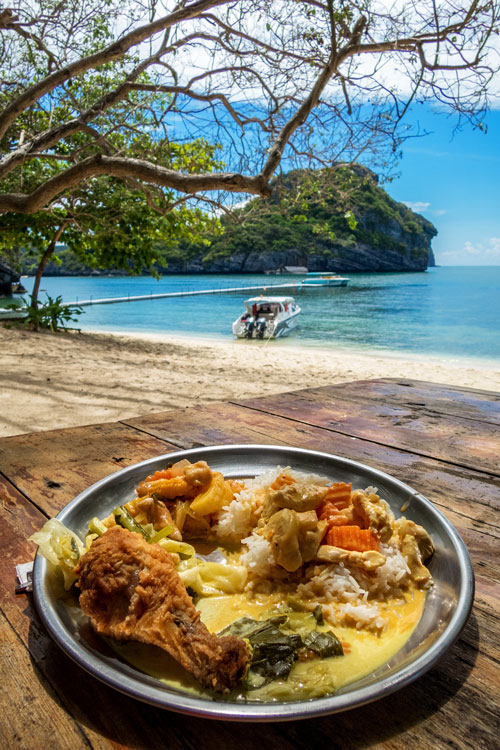 After lunch it was time for some R & R on the beach.  It was so peaceful that we even had a little snooze!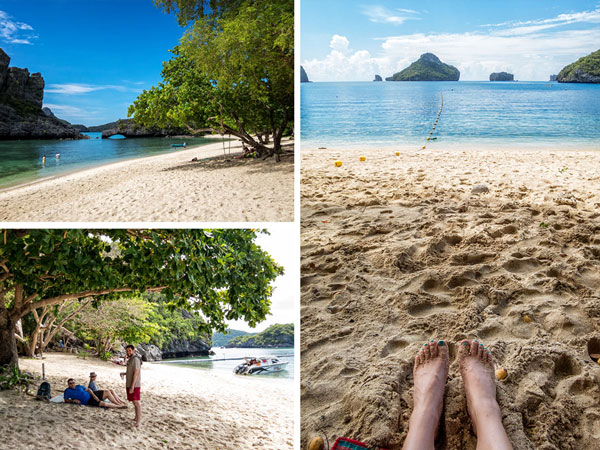 But the day wasn't over yet!!  Our next stop was Mae Koh Island and its famous emerald lagoon, Talay Nai.  While the walk up to the viewpoint was relatively short, it had its fair share of challenges.  This was mainly due to the insanely steep and narrow steps that form the pathway.  Some people in our group managed it in flip-flops but I recommend shoes that attach to your foot to eliminate one level of concentration!  There are three viewpoints with the top-most being the most popular and shortest to get to.  From there you can walk down more steps to a lower level and then again to almost lake level.  We only went as far as the lower level due to time and energy constraints.  The steps were crazy!!!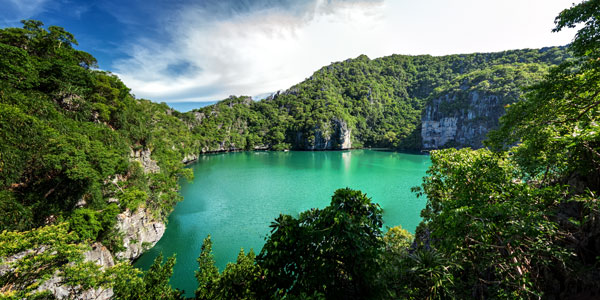 Back at the beach we were all dripping in sweat and dying for a swim. Milla suggested that if we could hold on for 5 more minutes, we could boat to a nicer beach.  Naturally we held on!  And so we ended up at Park Headquarters on Koh Wua Talab.  This is where you spend the night if you wish to do so in bungalows or tents.  The beach was lovely and the water crystal clear.  Milla went for a quick walk to see if there were any monkeys about but with the rains earlier in the day, they had retreated deep into the island forest.
It was a perfect end to an even more perfect day! We were so fortunate with the conditions and 100 Degrees East was a fabulous company to go with.  I can't imagine being on a big boat with 40 other people (having to take turns snorkelling and kayaking) and having to travel at least 2 hours to reach Ang Thong.  The speedboat was worth its weight in gold!!  And yes, compared to the big boats you do feel like you are dipping into your gold reserves to pay for the trip, but it was more than worth it.  Especially for us since we were only in Koh Samui to take this trip.  Like the elephants, exclusive was the only way to go for us. A day to remember!