Today we traded big island life for small island adventure!  Koh Tao here we come!
Our Lomprayah ferry transfer arrived bang on time at 6:30 to bring us 15 minutes down the road to Mae Nam Pier.  Needless to say we were quite early for our 8:00 ferry departure, but it was nice to be checked in and ready to go before the waves of passengers arrived.  Everything was fairly well organised with everyone sporting colour coded stickers so that staff could tell at a glance what our final destination was.  Our bags were stored outside on the bow of the ferry so we were grateful for the sunny morning!
We left pretty much on time and were barely settled before the first stop half an hour later at Koh Phangan.  Amazingly the majority of the boat were on day trips to Koh Tao (from both Koh Samui and Koh Phangan).  The ferry was quite comfortable with the lower level filled with bus-style seats, the middle level had exclusive seating that you could pay 150 baht and up for quieter surrounds and cushier seats, and the top level was the sun deck with benches.  We sat on the lower level for the 2 hour journey.  Before stopping at Koh Tao, we let the day-trippers off at the neighbouring islet of Koh Nangyuan.  You can probably guess that we pulled into Koh Tao …. 40 minutes late!
We disembarked quickly and crossed our fingers that our bags would be waiting for us on the pier (they were!) and the ferry continued on its way to Chumphon.  We had arrived!
Koh Tao's claim to fame is scuba diving.  There are over 50 dive schools on this teeny tiny island and it is the place to be in Southeast Asia to learn this sport.  I couldn't bring myself around to the idea, so it was just Carlos, Javi, and Virginia who would be learning the art of scuba over the next 4 days.  I'm sure it is something that I'll regret someday down the road, but for now, it was the right decision!!
And with over 50 schools to choose from, how do you choose?  In our case the choices were narrowed down considerably by language and then Virginia had found reports on an Spanish outfit called IHASIA that was the eventual winner.  We met El Brujo (the owner of IHASIA) at the 7-Eleven near the pier and got the day's plan sorted out.  We all piled into a pick-up truck and hung on for our lives as we motored 10 minutes down the road to Chalok Baan Kao Beach – our home away from home for the next 4 days.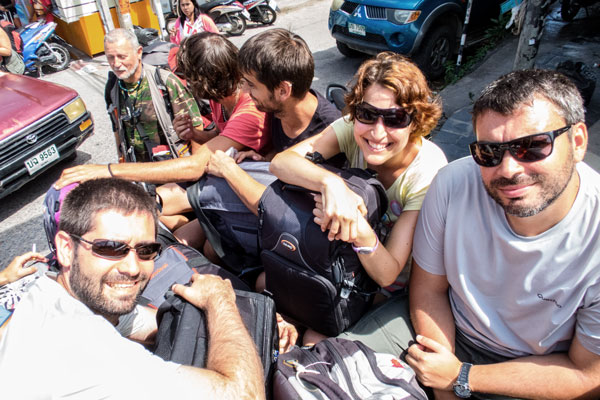 Luckily our rooms were ready at Ko Tao Resort when we checked in (or at least almost ready…the housekeepers were working hard finishing them, but we were able to drop our bags inside).  We sat by the pool and went for a walk on the beach to work up an appetite for lunch.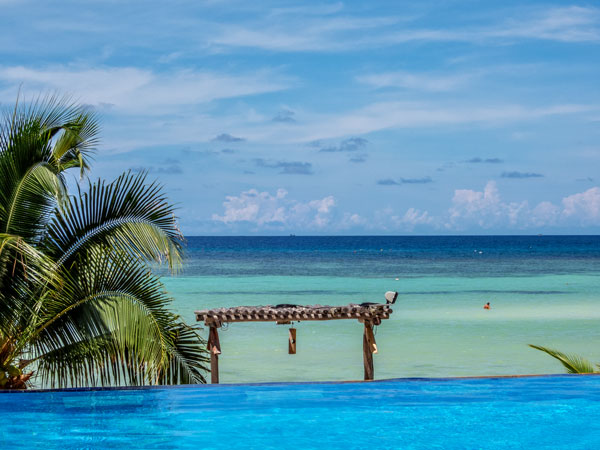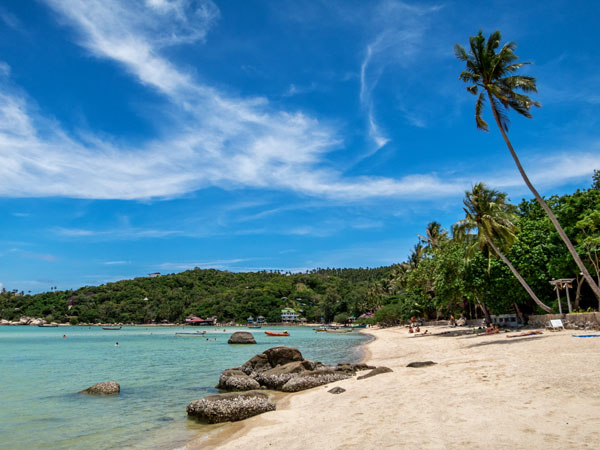 Before we knew it, it was time for the first scuba lesson down the beach at IHASIA.  I dropped the gang off and El Brujo told me that I could go out on the boat with the scuba students on Days 2 and 3 so that I can see them action and do some snorkelling on my own!  I also signed up for a snorkel trip around the island for Day 4 to make sure that I get my daily dose of water and fish!!
So off they went for their theory lessons and off I went to town to see what other activities I could line up for the next few days.  In the interest of brevity (which I am not known for AT ALL!) my extra-curricular activities are described in the next post!
The 3 hours of theory on Day 1 were followed by another 3 hours on Day 2.  At that point, they were ready to take to the water.  I joined the group as official photographer and cheerleader and we boated over to Aow Leuk which is a popular bay for diver training.  It was fairly smooth sailing but when it came time to prep the equipment, they quickly realised that there is a big difference between doing it on land and at sea.  Not something you really take into consideration as you practice in class!!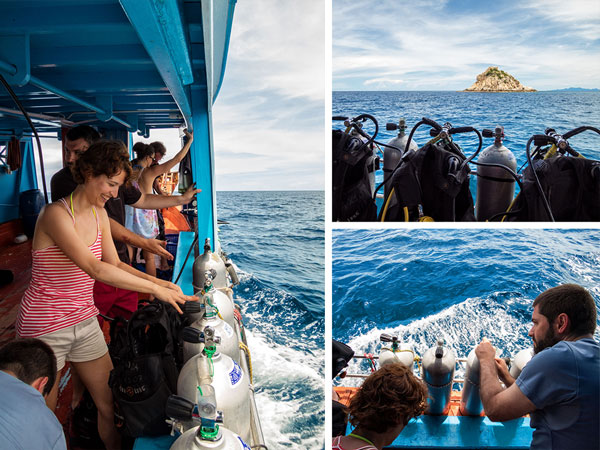 Once we dropped anchor in the bay, it was time for the final instructions and preparations. Before getting suited up, they had to swim a lap of the boat to "warm up".  Carlos and Javi jumped from the upper deck of the boat but couldn't really match the finesse of their instructor Tony!!!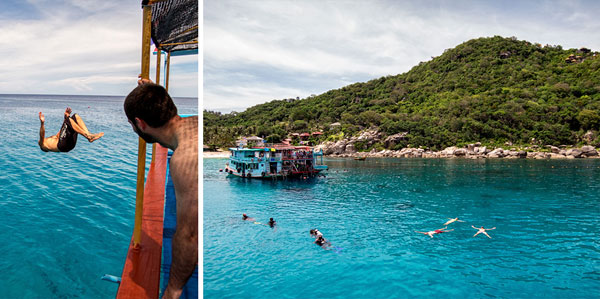 Then it was back on board to gear up!
Since this was their first immersion, they swam for a bit above water and did drills to practice reacting to water in their masks, losing their mouthpiece, etc.  I didn't see much of this since as soon as they were out of range, I was in the water myself for a spot of snorkelling!  Not to be left out, I jumped off the top deck as well.  Super Freaky!  I'm almost glad my cliff jumping trip didn't get off the ground!  🙂  I had almost an hour to float around and explore the north reef.  It wasn't as spectacular as Ang Thong (nothing will ever beat that!) but it was still entertaining and the time passed quickly.
Back on board I managed to capture the group resurfacing from their dive.  Such a weird feeling!!  There was only one immersion this day so we boated back to Chalok and hit the hotel pool for sundown and a good session of back patting!!  That night there was a shaving session….Carlos's trip beard was interfering with his mask's ability to keep water out.  He had quite enough practice that day clearing his mask of water!!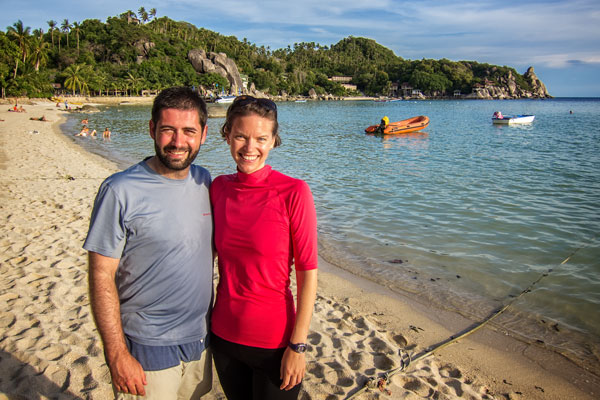 Day 3 started with the final exam – everyone passed!  Then it was back on the boat for the afternoon.  We returned to Aow Leuk but this time to the south reef.  The rocking boat didn't phase anyone today and they were suited up and ready to go in no time at all.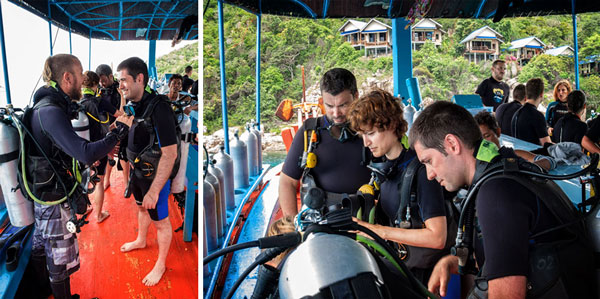 The first immersion included more drills (this time practicing taking off their tanks and weights and putting them back on).  Meanwhile I was off playing with the fish…or rather they were playing with me! Little guys darting in and out around my hair fringe – freaky!!!
Between dives we reconvened back on board for a break and then it was back into the water.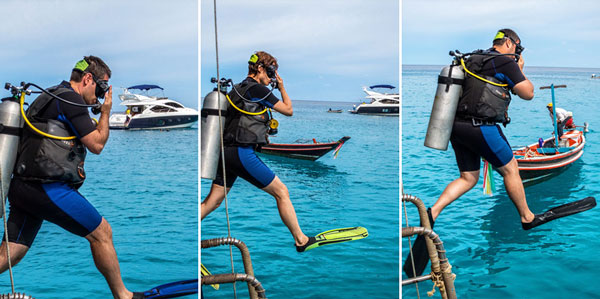 This time they were diving at the reef so I followed them at the surface.  It was wild to see them down at the bottom swimming along.  I even witnessed the moment when Javi found his sunken treasure – a bracelet with a cute little bow that he never took off again much to Virginia's chagrin!!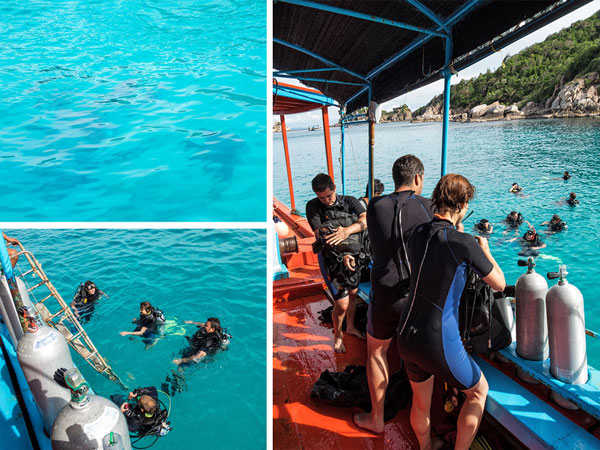 All too soon it was Day 4 and time for the final outing.  I couldn't go on this dive since it was not snorkel appropriate (and they left at 7 am so I wasn't completely heartbroken!)  They went to two sites: Hin Pee Wee and King Kong.  Instructor Tony had a GoPro with him so was able to capture the intrepid divers in action!  It's hard not to get carried away with the underwater shots….bear with me!!!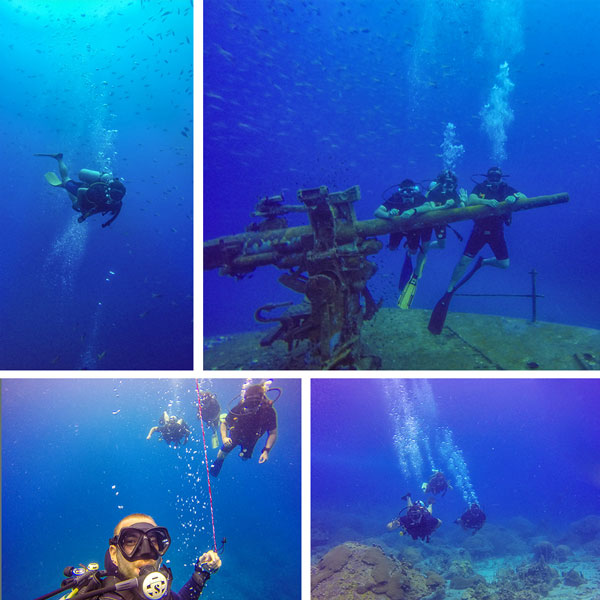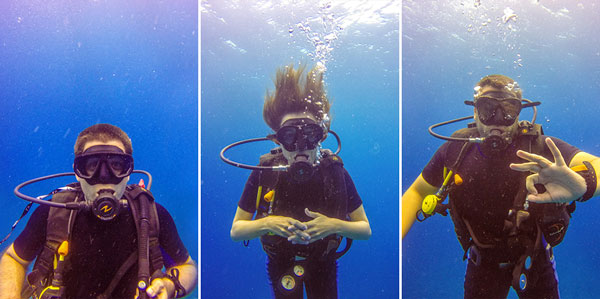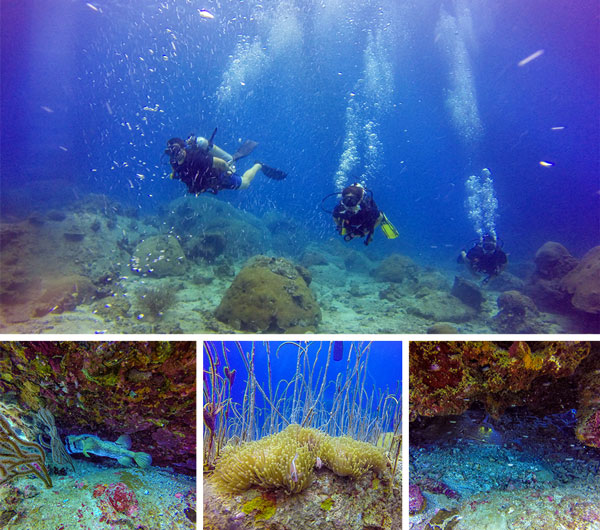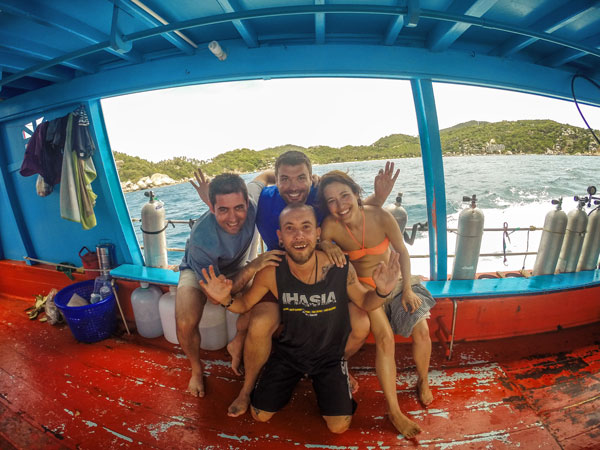 And so ends the scuba adventure …. for now! We whole-heartedly recommend IHASIA for all your diving needs on Koh Tao.  Especially for the Spaniards out there!!  www.ihasiadivingkohtao.com