We woke up bright and early to enjoy a local breakfast at the famous Lung Lek just around the corner from the hotel. Unfortunately we were a little too bright and early and they were still setting up!  Next door though there was another place that was already up and running so we had some dumplings and bowl of delicious noodles there. The dumplings were "same same but different"….still dumplings but kind of the sensation of comparing flour tortillas with corn tortillas…fundamentally they are the same but really completely different. How's that for ambiguity!!!!  We didn't have much time to linger before it was time to head to the train station for our journey to Sukhothai.
Once at the station we checked the white board that lists the delays. Our train (which started in Bangkok) was listed as half an hour late so not too bad!! By the end it was 40 minutes late but the time passed really quickly with people watching and general chatter.
Second class was certainly quite deluxe! We had comfortable seats, air-conditioning (that wasn't frigid), and even a cold welcome juice that was a throwback to birthday parties at McDonalds and their "orange juice"!! The biggest surprise of all however was the lunch that was served – noodle soup and chicken curry!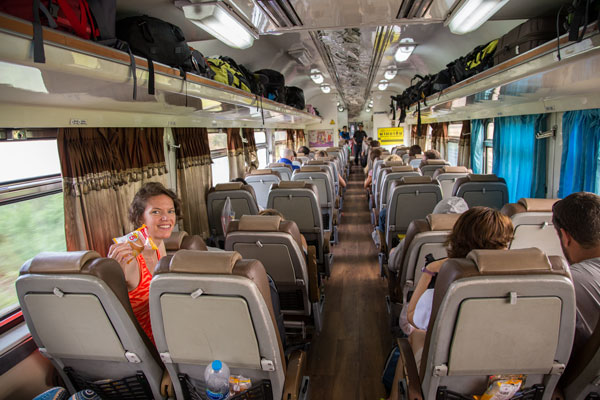 The journey to Phitsanulok was under 4 hours and we maintained our 40 minute delay so didn't lose any more time. Once at Phitsanulok we grabbed a tuk tuk to the old bus station to catch our bus to Sukhothai. Upon leaving the train station there is a list of tuk tuk destinations with prices so it is easy to know what to expect. As four people we paid 80 baht I think for the trip. This was the smallest tuk tuk yet so the big bags had to go on the roof….without being tied down!! With everything being open though the guys kept a hand on the cargo during the sharp turns!!!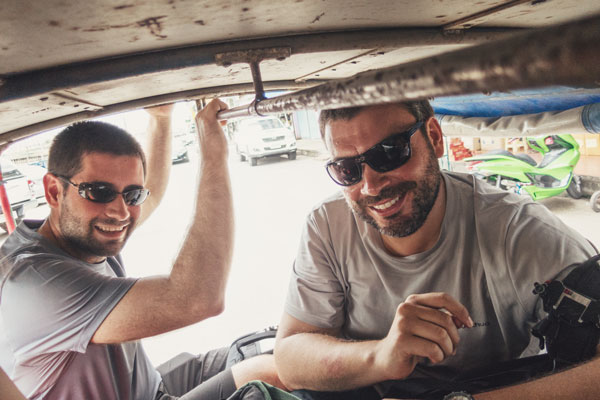 At the bus station we bought our tickets at the window (being led there by a lady who turned out to be the conductor on our bus). We were certainly overcharged with the 50 baht fee but we weren't about to start counting pennies! There were two berths on opposite sides with Sukhothai as the destination so I set out to try and nail down which one we should be at. It wasn't very successful but my tourist look prompted a couple from Spain to ask me if we were on the same bus – safety in numbers!!!!!  As it turned out we were the only foreigners on the bus!  Team Spain!!
The bus ride was an experience in itself. The back door was wide open so Carlos tried to close it a bit since our bags were all piled right across from it. Not long after, the conductor lady came and opened it again!  However, Carlos thought that she closed it properly and when he went back to rearrange one of the bags he moved around with astonishing confidence and agility. I was gobsmacked that he wasn't even holding on with his free hand. Eventually he realized that the door was open and couldn't believe it!!!! Too funny!
We pulled into New Sukhothai an hour later at 3:30 pm and were whisked away in a tuk tuk truck to the old city where our hotel was located. We were staying at Thai Thai Sukhothai and it was lovely! The only thing it was missing to be perfect was a pool. The staff were really friendly and rooms very nicely appointed and comfortable. The hotel is about 1 km from the historic park so we rented scooters to zip around with ease. It took a little convincing to get me on board but in the end I gave in and I'm so glad it did! It was so much fun! It was 300 baht (7 €) for 24 hours.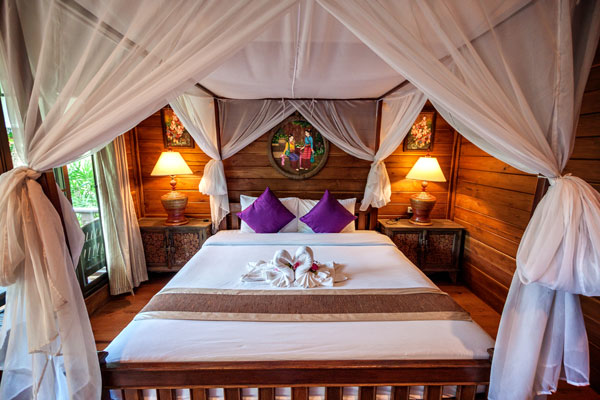 We went to a neighboring hotel (Sinvana?) for a pre-dinner Chang. This was the most expensive beer by far at over a hundred baht each (a whopping 2.40 €!!) Ridiculous! Needless to say we got out of there quickly! We took our scooters for a test drive into the old town for dinner. We had some fresh coconut water and some standard noodle and rice dishes.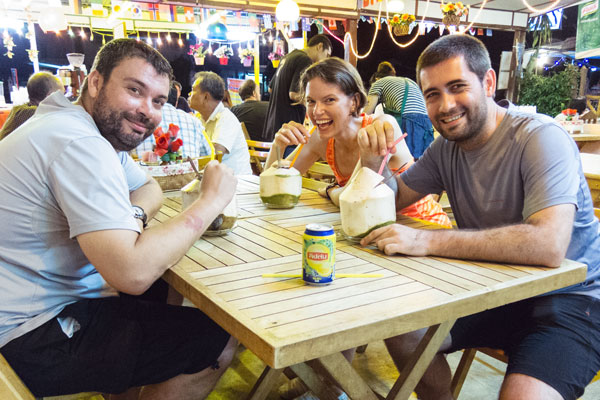 Before coming away we had read about how the water provided by hotels and often restaurants is called "drinking water" and is stripped of everything but the H2O it seems! We have really noticed that we feel much more dehydrated than on any other trip since unless you buy mineral water from a 7-11 you aren't giving your body anything to work with. So coconut water is our new best friend to get a boost of electrolytes!!!
The guys dropped the gals off at the hotel and then went on a quest for petrol which turned out to be easier said than done!!! Especially in the dark!! They survived attack dogs, blank looks when asking directions, and in the end the pumps themselves and finally made it back to the bungalows!!! It was then straight to bed since we had a 5:15 wake up call to see the sunrise over the temples!!!
Needless to say, the wake up call came waaaay too quickly! Haha! But wow was it ever worth it! We weren't exactly sure how to get into the park (since it was still technically closed) so it took us a little longer than needed to get in place at our temple of choice – Wat Tra Phang Ngoen. The sunrise itself wasn't very spectacular but the cool temperature and exclusive access more than made up for any initial disappointment in the lighting!  Half an hour after sunrise we got about 3 minutes of amazing light as the sun broke through the clouds – magic!!!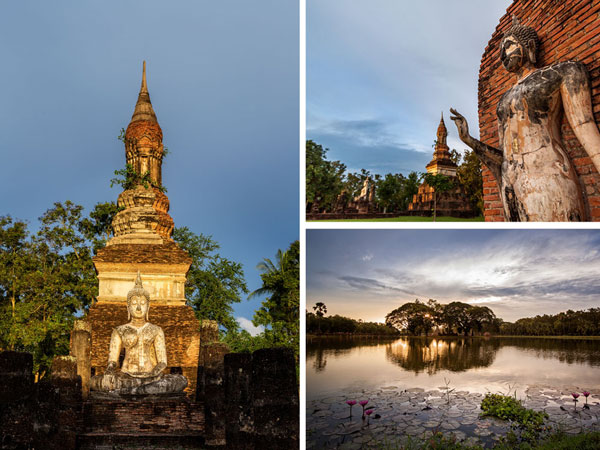 We rambled around for a bit and then moved on to one of the most popular temples, Wat Mahathat. There was still no one else in the park so it was fabulous to have it all to ourselves. The first people wandered in around 7 am and while the number of people grew steadily you could never claim to describe it as crowded at any point. We set up the tripod for a photo of us and our amazing scooters by the lagoon.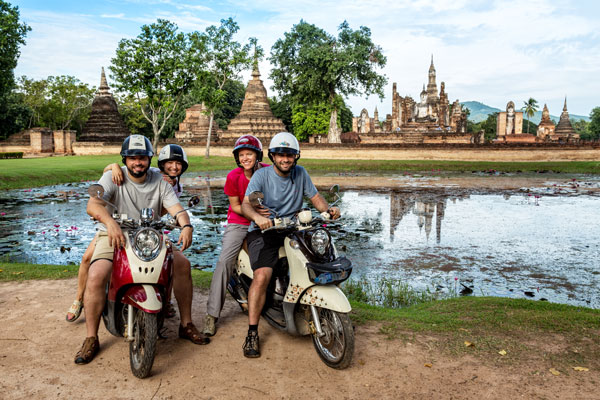 We ducked into Wat Si Sawai which is known for its khmer-style towers and offerings in the roots of an ancient tree. This was very peaceful.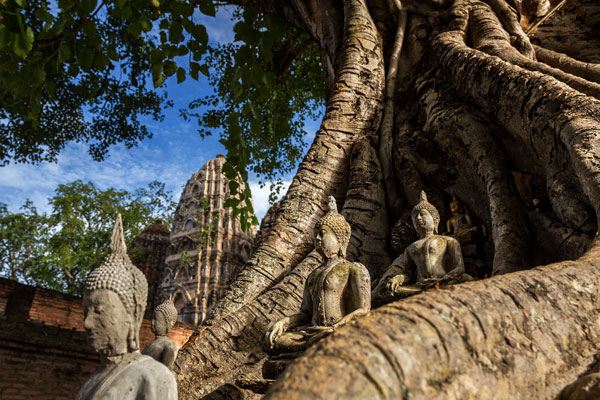 The next temple on our list before going back to the hotel for breakfast was Wat Sa Si. This one is famous for the Standing Buddha that touches the Sitting Buddha when looking at the right angle. It also sits on a little island that is reached by bridge. The groundskeepers were working hard clearing some grass so it was a hive of activity.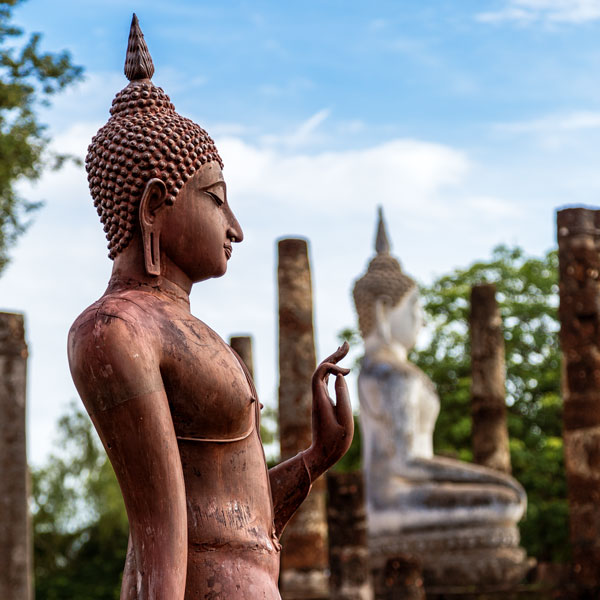 We did a few victory laps of the area on our scooters to take videos and photos while on the move!! Finally three hours after sunrise we returned to the hotel for a well deserved breakfast!! After a quick turn around we were back on the road heading to the northern zone of the park. There are three zones that each require a 100 baht entrance fee: the central where we saw the sunrise (and didn't pay since the park wasn't open yet!), the north, and the west.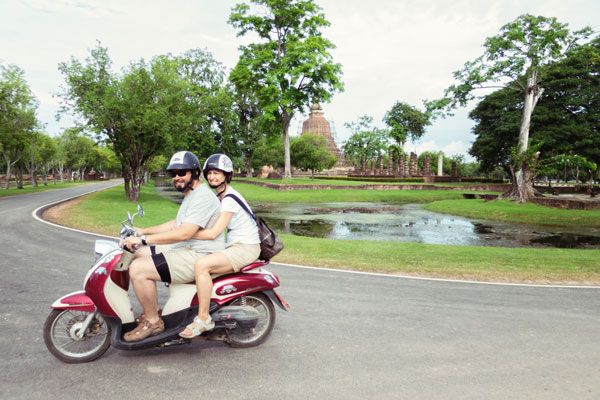 Our first stop was at Wat Phra Phai Luang which also has a khmer-style tower. The most famous temple in the northern zone is Wat Si Chum which houses the enormous seated Buddha that peeks through the temple opening. It was truly astounding! Naturally it was the most congested place we had encountered since the space is quite small, but it is difficult to only take a quick look since the sight is so spellbinding.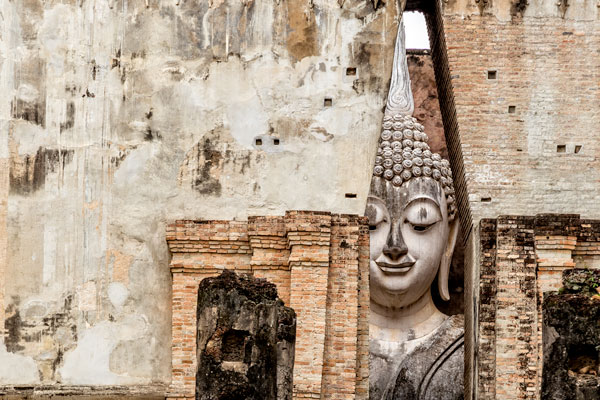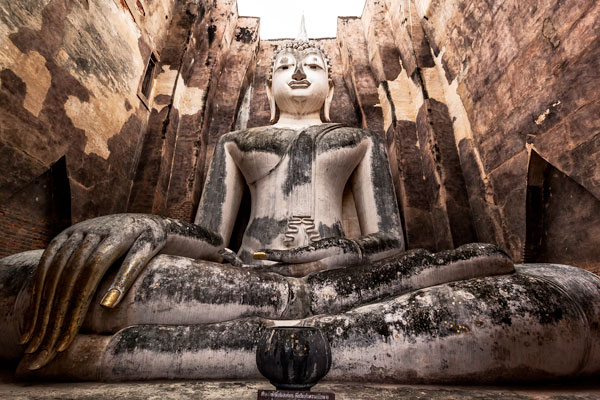 Next we motored further out of town to the west to see some of the forest temples. Wat Saphan Hin was first and involved a climb up to the temple. There were steps and it wasn't too bad! At the top are Standing and Sitting Buddhas looking out over the land and ancient city. You can't make out individual temples but the view is lovely to take in.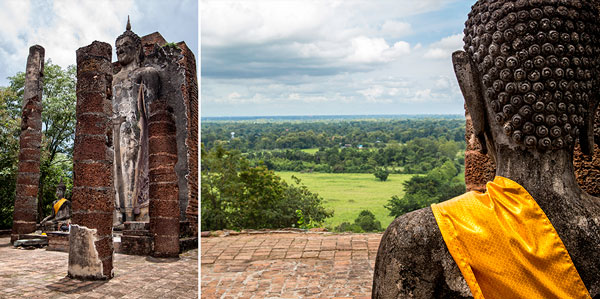 As we descended it started to rain!!! Noooo! Rain is not easy on a scooter!!!! 🙂  We waited it out a half an hour and finally got back on the road. We saw a few temples from the road but the other one that we explored more closely was Wat Chedi Ngam. You reach this one through a forest path and it was very cool! The setting really adds to the feeling of adventure!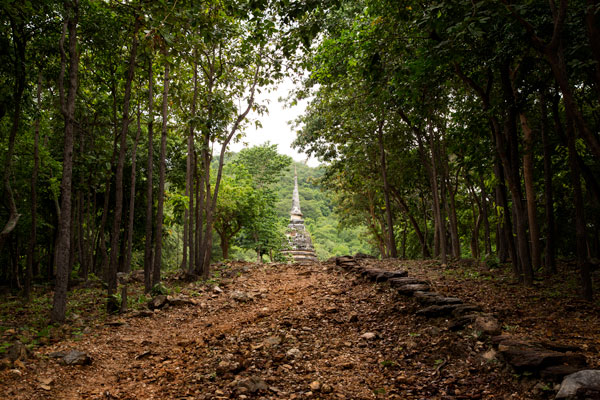 By now it was time for lunch so we continued to the little strip of restaurants and had our feast. The food was pretty standard from place to place and while our meals were not the best we'd ever eaten, they were still completely satisfying and tasty! Afterwards we went back to the hotel to have a little rest and gear up for sunset.
Our plan for sunset was to return to Wat Mahathat and the lagoon for the famous sunset photo. We took a quick detour to Wat Chang Lom near the hotel for a look at the elephant statues around the chedi. I was already getting excited for the elephants in Chiang Mai!!!!
As we were entering the central zone after closing time, we didn't have to pay! Again! And remarkably there was really no one watching the sunset. We anticipated crowds of people at the lagoon! I guess we're the only people don't pay attention to the opening hours of the park! It has to be said for the record that the gate is open but the ticket booth is closed – so we aren't even jumping any fences!!!!
We had another wander around the temple as the sun set. Unfortunately once again there wasn't really any spectacular light but as with the sunrise, it was just magic to be there!
Our luck continued when night fell and they started testing the lights for a light show that was being held the next day. We hung around and saw Wat Mahathat lit up in all its glory. Very cool!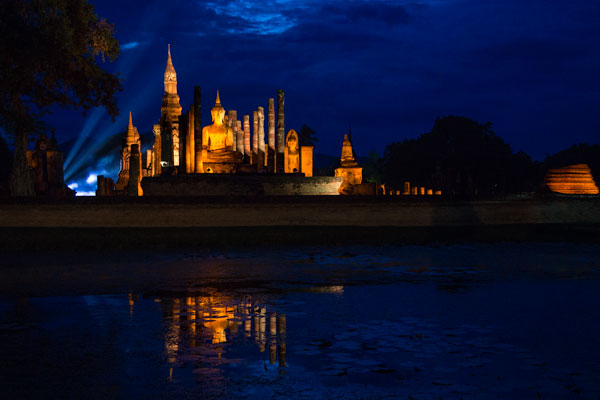 With darkness upon us, there was only one option to do: eat! And get ready for the next stage of the adventure: tomorrow's bus to Chiang Mai!!