We made it to Bangkok!  And as it turned out, we arrived in high style. It seems that I made a mistake in my previous post when I said that we were flying in economy on the A380 from Dubai to BKK — yes! We were upgraded to business class! There were at least 11 of us who were given the golden ticket! (Note: it wasn't actually golden….!)
But first let me comment on the first leg of our journey. Everything was perfectly on time leaving Madrid and we had a relatively comfortable flight. Our route brought us over Italy, Greece, Turkey, and Iran before crossing the Persian Gulf to the UAE. Dinner was good (even though they had run out of the better sounding lamb curry and we had to make do with chicken) and then settled in for about 4 hours of sleep.  It was only a 6.5 hr flight so between take off/landing and dinner there really wasn't much time for shut eye.  I witnessed a spectacular sunrise over Iran – wow!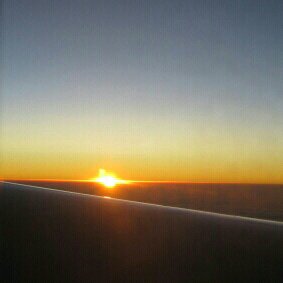 But even more of a wow was getting off the plane in Dubai. We didn't have a Jetway direct to the terminal so we had to walk outside to a bus. At 7:05 AM it was 34°C and humid like you wouldn't believe! The humidity really surprised us!
And even more of a wow was getting our upgrades an hour later! There was no one going through to the gate so Carlos and I each went to a different lady to show our boarding passes. Carlos was finished first and neither of us could see or hear the other lady so we weren't sure if we were both upgraded!!! It was quite funny! And now I honestly couldn't even tell you how long we waited to take off or how long the flight was (well actually I can – 6 hours of bliss!!!!)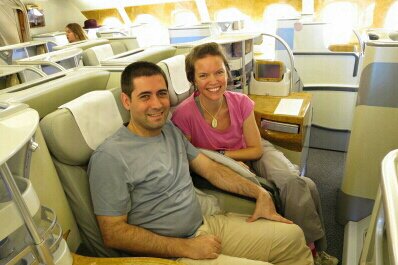 We were in the middle with the two seats together. We passed the time before take off by playing with all the buttons while sipping our moet & chandon. Lift off was freaky since you couldn't see out any window and it felt like the plane was moving soooooo slowly! Once in the air, we had fun with our noise canceling cushy earphones and watched a movie while we waited for lunch. The meal opened up with an impressive plate of Arabian mezze and green salad.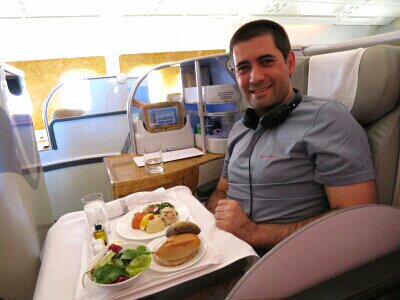 This was followed by a steak for me and curry for Carlos. The curry was delish while the steak was well done but still amazingly tender. We rounded out our meal with chocolate mousse for me and cheesecake with lychee for Carlos.
By this time a good three hours had passed so we decided it was time to check out the lounge. The barman was from Philadelphia and poured us an excellent Patrón tequila and coffee mix for me and a chives regal for Carlos. We stood at the bar chatting and a German couple came along. The husband became our good friend Helmut – as drinking with someone at 37,000 feet makes them an automatic friend! We were part way through our drink when the captain switched on the seatbelt sign. We were asked to take a seat and when we started leaving the lounge, we were directed to the bench seating beside the bar that is equipped with seatbelts! As it turned out, this was the longest stretch of turbulence …. EVER!!! so what could we do but continue drinking??? Over the next 2 hours we had a great laugh! I sort of feel bad for the people in the last row since everyone seemed to be sleeping in the cabin (lay flat and all) and we were all out belly laughing!
Finally with about an hour to go, we were able to return to our seats. This was good because we still had lots to discover. The main thing was the lay flat experience which I forgot to combine with the massage function (silly me). It goes without saying that this was the best flight of our lives!!!
Our welcome to Thailand was in the form of the most hilarious immigration officer. Hilarious but s.l.o.w. for every person that he processed, the guy next to him did 4 or 5 people! On the one hand it was brutal but on the other entertaining once we got through eventually. As it happened, I went through first and our luggage carrousel was right beside the booth so I was able to watch both Carlos and the luggage coming off! The bags came off together about  2 minutes later so once Carlos was through, we were off!
We had booked an airport transfer through our hotel, Casa Nithra.  I have to say that even though they are always pricier than the local transport options, this is something that I always arrange when possible. It is always nice to see a friendly face holding a sign with your name when you arrive in a foreign place. And most importantly in a place like bangkok, they know where the hotel is!!!
Before we knew it, we were at the hotel and reunited with Javi and Virginia. It turns out that Javi was upgrade too with emirates but Virginia wasn't!!!! They had booked their tickets in two reservations so were in the system separately. Nooooo! We exchanged all our travel stories over some pad thai, soup, pad sieu (bad spelling!) And naturally a few large beers to officially kick off the holiday! Then it was back to the hotel for a long awaited sleep!