This is it!! The big kahuna! All of our training (walking and heat resistance) has been leading us to this day: Exploring the Palace Town of Sintra!
We caught the 8:40 am train from Rossio (included on our Zapping transport card). It took about 40 min to travel the 30 km to Sintra. The train wasn't very crowded, but we were a bit down the platform so enough people were ahead of us that we didn't get on the first bus of the day (9:30 am). I enquired about a taxi, which turned out to be 10 € to Pena Palace. In hindsight we should have taken it since we only used the bus once (and it was 5,50 € each).
The bus ride felt really long so we were glad to have seats. There were several people waiting in the town centre for the bus – they are probably still there waiting since the buses were always packed! The road is narrow and windy and the big bus could only just make the turns. We rode all the way up to Pena Palace and started our adventure from there with a combined ticket for the Palace and Moorish Castle.
From the ticket office you have to walk about 10 minutes (*uphill*) to reach the palace. There is a shuttle for 3 € that will take you up (complete with a long line of people waiting for it). To me, it is not good value at all. If you are not able to walk up the hill, there is a little hop-on/hop-off cart that costs 3,50 €. Not only will it take you up to the palace, but it will also take you all around Pena Park (and if you aren't able for the initial 10 minute climb, you won't be able to explore the park since it is huge with many ups and downs.)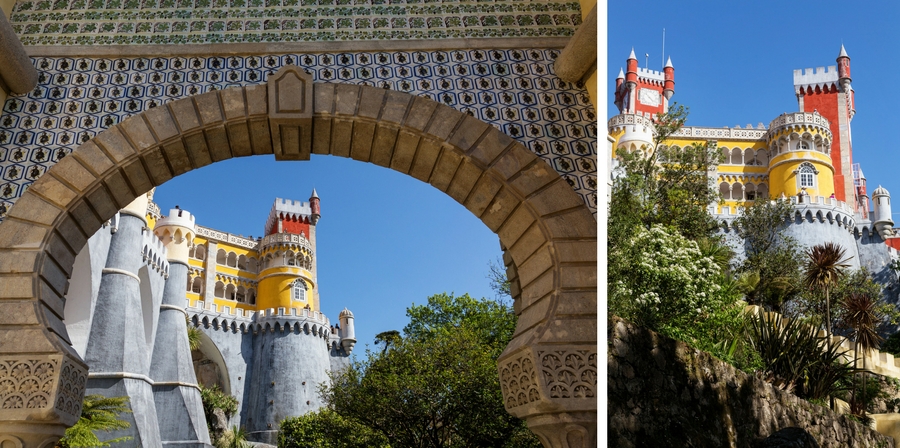 Once we reached the palace, we decided to explore the terraces first. They are so colourful and different. We walked the rampart walls and enjoyed the views of the Moorish Castle below. So reminiscent of the Great Wall of China!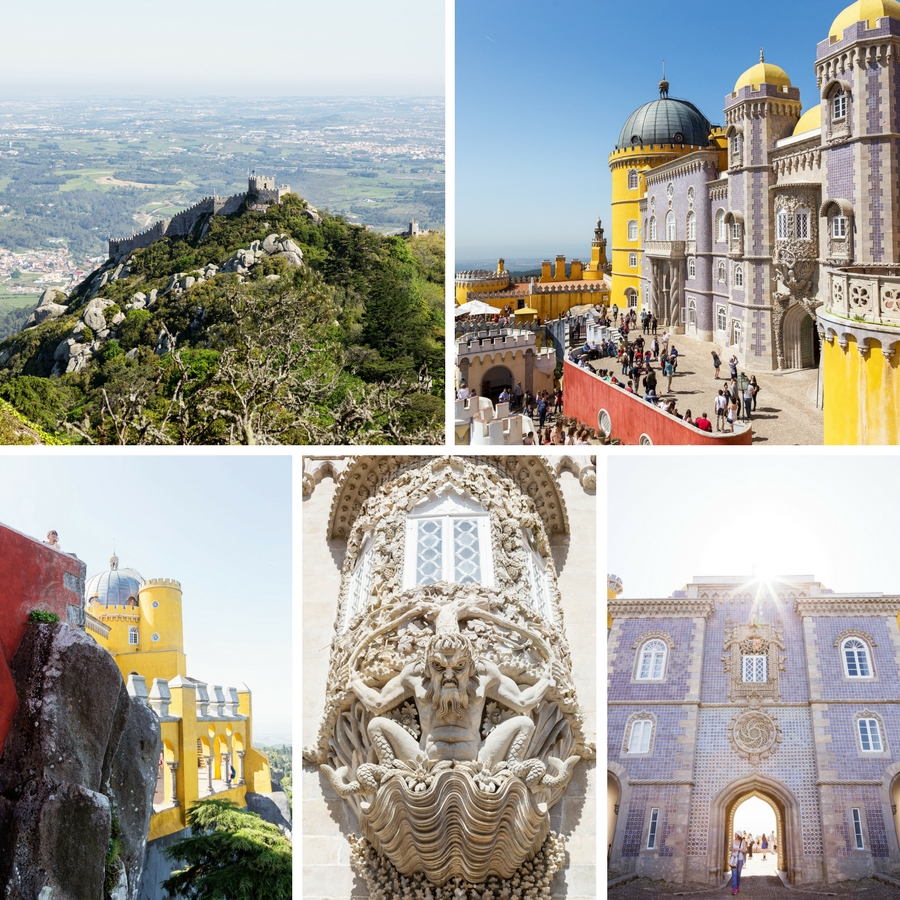 The inside of the palace was a bit of a gong show but organised into a one-way system that you just follow through as if you were in one big line ("In Line in Lisbon", the title of my next book?) I hope Semana Santa is just like summer high season and that it doesn't get much busier?? I can't imagine having to deal with more people….or more heat but I know it would be way hotter in summer!
After leaving the palace, we climbed up the 600 m or so to the Cruz Alta Mirador. Actually "mirador" is a big of a stretch since there was one rock from which you could see the palace and only one person could fit at a time. They need to trim some trees!!! Checking my notes afterwards I noticed that someone recommended continuing on 300 m to the right to get another view but I forgot to check that! And truthfully 300 m more would not have been desirable with the heat and required energy.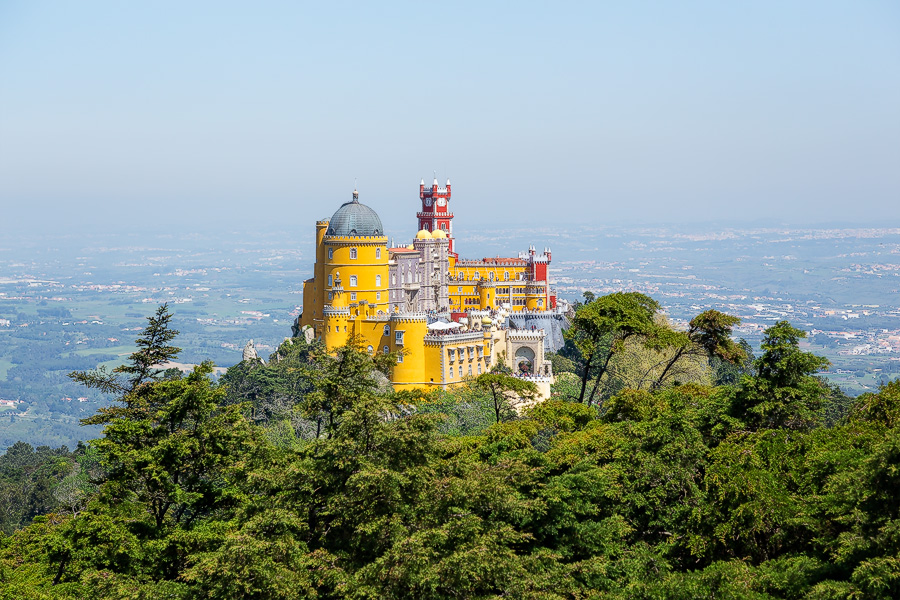 We walked down to the Valley of the Lakes to exit that way since on the map it looked to be right beside the entrance to the Moorish Castle. Of course, "right beside" involved another uphill climb. I never thought I'd say this but, we are so over hills!!!!! Haha!
The castle area was cool but quite a bit smaller than I expected. I thought there would be more walking on the walls to climb up. Nevertheless it was nice but could benefit from a one-way system or at least directions to start from the right hand side behind the ticket booth and toilets etc., which in retrospect seemed to be the logical flow.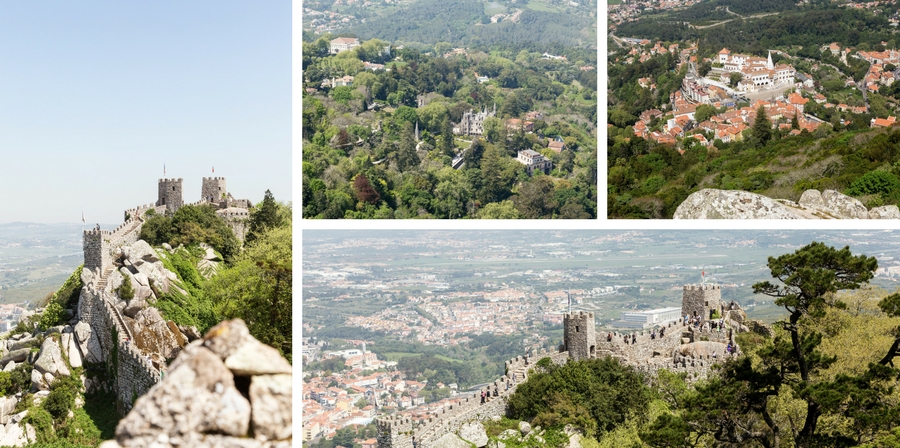 By this time we were hot, tired, thirsty, and hungry (probably in that order!) so we headed for the town centre. I found it really hard to get information beforehand about walking down to town but within the castle area there were signs to guide you (for the most part!!!) We met some people who were walking up and they were really struggling so I would definitely recommend getting transport to the Pena Palace and then weave your way down on foot. It is a looooong walk up.  🙂 You can see in the photos above how far down town is.
The town centre is quite small (and packed!) so we just played a round of restaurant roulette and stopped at the first place that had a spot. We ended up on the main square at an Italian restaurant with a couple of salads and a big beer!
To get our first sweet fix of the day, we stopped by Piriquita II for a typical Sintra pastry: travesseiro. It is a puff-pastry "pillow" filled with almond cream. It was lovely and made a nice change from all the pastel de nata!!
We walked off the travesseiro with a visit to Quinta da Regaleira on the outskirts of town. This mini-palace is famous for its gardens and especially the intriguing Initiation Well. Needless to say, the place was crawling with people but it was still cool to see. We were still hot and tired so we really just focused on the Initiation Well and then started the walk back through town to the train station.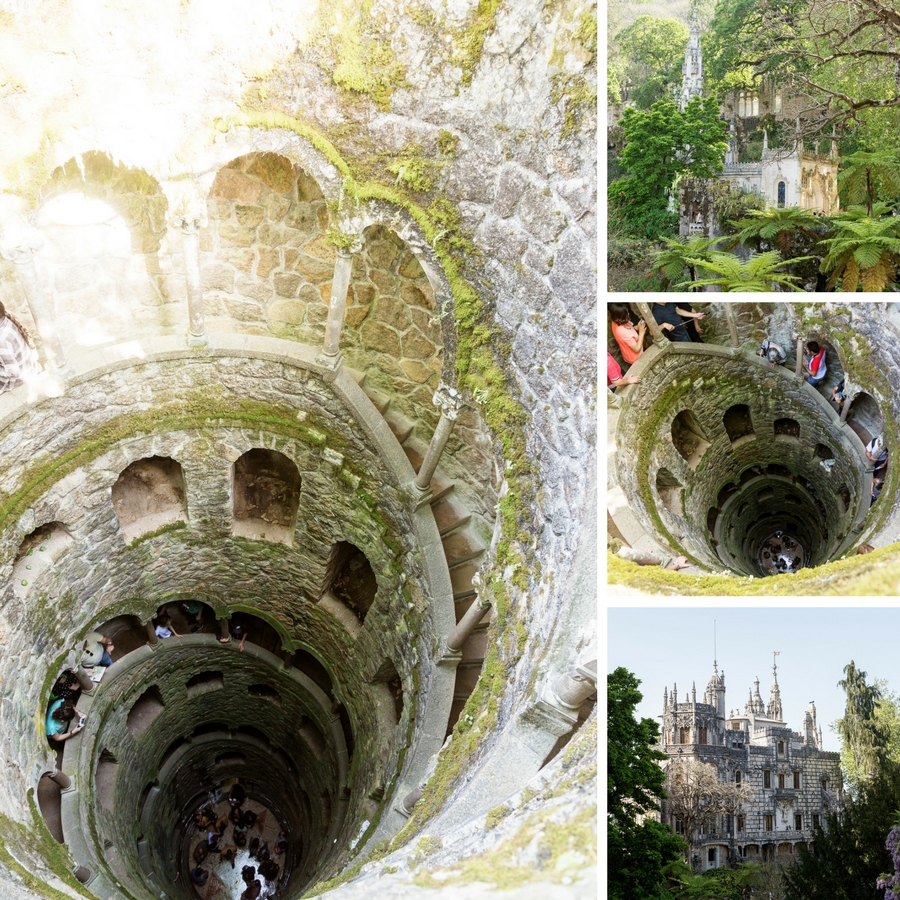 We had some time to pass before the next train so we stopped at Queijadas da Sapa to sample the other typical pastry of Sintra: queijadas. They were good, but I'd prefer a travesseiro! It's a cute little café though and worth a stop (besides, you have to try the queijadas for yourself!!)
The train ride back to Lisbon was uneventful and we even had time to dash back to the apartment to stow the camera before the evening's activity: watching the Real Madrid vs Bayern Munich Champions Game. And not just watching the game, but watching it at CR7 Bar & Bistro which is owned by none other than Cristiano Ronaldo! How could we not? Sitting under "your love makes me strong, your hate makes me unstoppable" emblazoned on the wall pretty much sums up Ronaldo!
There was no room in the bar area so we sat in the bistro where things were quite calm even when Ronaldo scored 2 goals and became the first player to score 100 goals in UEFA competitions. The icing on the cake of the win for Madrid was the amazing burger that we had. It was SO GOOD! And I do not dole out burger praise easily. Everything on the varied menu sounded delicious and dare I say it, actually sounded healthy. But I needed a burger after all this walking!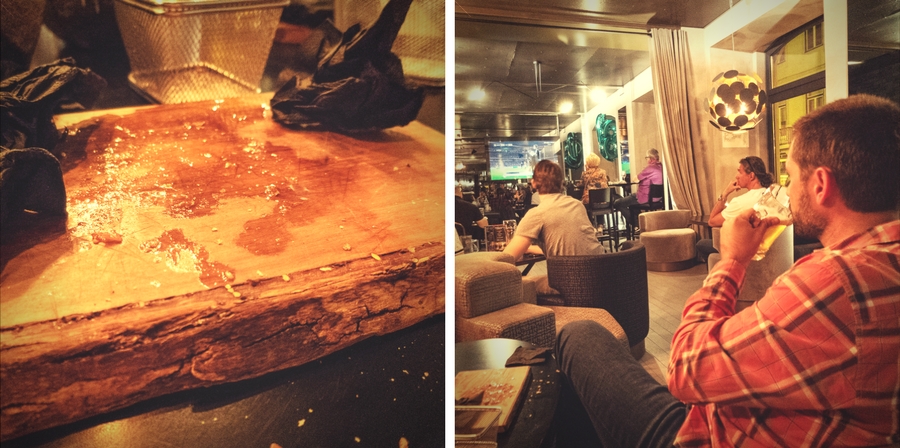 I used my running watch to track our Sintra mileage and it came up with 14 km. There was a bit of confusion in the park trees and inside the Pena Palace, but otherwise the tracking seems pretty good. I should have tracked all of our days!!! Or maybe I wouldn't want to know….
So overall, Sintra was a success but the key to this was our early start to arrive in time for the first bus that leaves the station at 9:30 am (even though we didn't fit on the first bus). With every train that arrives, this bus line just grows and grows. Alternatively, you can plan to take a taxi and skip the bus all together especially if you are planning to walk between Pena Palace and the Moorish Castle and then down to town. The walk at the end of the day to the train station from town was very easy.
Looking for more Lisbon adventures? Click on the links for Day 1, Day 2, Day 3, and Day 4! Or maybe you just want the Coles Notes Version?