Our final morning in Sukhothai greeted us with grey skies and driving rain.  We had already decided against another sunrise visit to the park so this weather erased any lingering "should I? or shouldn't I" doubts.  Watching the rain pour down as we ate our breakfast made us so grateful for the wonderful day yesterday.
After breakfast we piled into a couple of tuk tuks and went the 2 km to the old city bus station to catch our 9:30 bus to Chiang Mai.  Or perhaps that should be "bus station"!!  The only thing reassuring us that we were in the right place was a picture of a bus on the awning that also declared: Old City – Bangkok / Old City – Chiang Mai.  Eventually we were joined by a few other tourists making us feel a bit better!  Note the red flag that was placed after we arrived to signal to the bus to stop.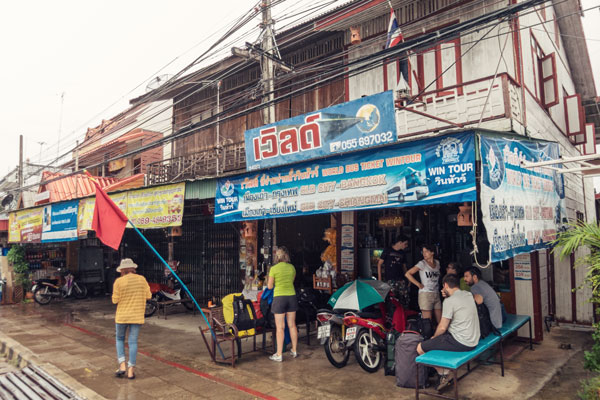 The bus starts in the new city which caused some concern that the seats would all be taken (the booking process consisted of 4 scraps of paper so we are pretty sure that each point of sale doesn't actually know how many seats have been sold in total!!)  In the end we were fine and we all got seats – but people at later stops did have to stand….  As seemed to be the trend, the bus arrived a half an late.  We can't figure out how they always manage this since the trains and buses seem to leave the origin on time…and in this case, the new city is only 12 km away!!  Thailand Charm!  The 5 hr 47 min journey cost us 239 baht each (just under 6 €) and included a 20 minute pit stop.  The toilets at the stop were more than adequate and it was welcome break.  There was snack food available and even a proper rice/noodles stand.  All in all the journey wasn't as bad as we anticipated – decent roads and much smoother than the train!!  I don't think I mentioned the constant jostling on the train from Ayutthaya to Phitsanulok.  If I had to do the full 10 or 11 hours from Bangkok to Chiang Mai on the train, I would have gone insane for sure!!
Upon arrival in Chiang Mai we took our first of many songthaews (red pick-up trucks) to our hotel, Sakorn Residence.  The hotel is one block back from the river so a fair distance from the walled old city.  It was walkable (30 min) but with the trucks zooming around looking for fares we always just hopped in one.  It was 20 or 30 baht per person (50 cents) depending on where we were going.  The hotel itself suited us perfectly.  The rooms were large, decent shower, and there was a pool for cooling down at the end of the day.  There was a safe in the room but it wasn't attached to anything and very light….i.e. with minimal effort, any would-be thief could just tuck it under their arm and be off!  It was a little comical!!  We didn't have any security concerns but figured it was a good place to test out our new PacSafe travel safe.  Peace of mind more than anything else!
We arrived on a Saturday which meant we could experience the Saturday Night Walking Street on Wua Lai Rd.  The market was completely different to how I imagined it. The souvenirs and goods for sale were actually nice quality and it was all much more "bright and shiny" than I expected.  It was a very pleasant walk along the street even with the crowds of people.  For our dinner we ended up at the market area at the moat at the beginning of the walking street.  None of us were actually that hungry since we had a late lunch at little place across from the hotel that actually turned out to be the cheapest meal of the whole trip – some 360 baht for the four of us (and that included 4 beers)!  Lack of hunger aside, we still managed to have some coconut water, smoothies, and our first sticky rice with mango.
Chiang Mai's claim to fame is it's endless supply of wats.  Big wats, little wats, golden wats, wooden wats, new wats, old wats, wat-ever you are looking for, you can find it in Chiang Mai!!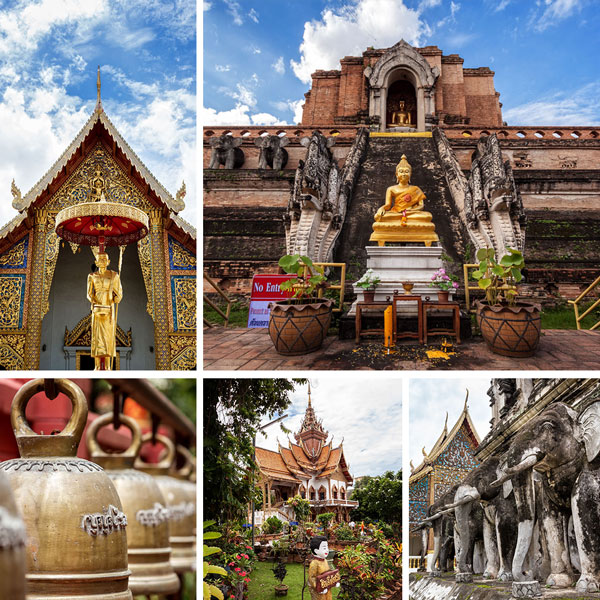 Over the course of our stay we visited (clockwise from top left): Wat Phra Sing, Wat Chedi Luang, Wat Phan-Ohn, Wat Bupparam, and Wat Chiang Man.
We ended up on Ratchadamnoen Road just as the Sunday Walking Street was opening for business.  This was even longer than the Saturday Walking Street!  The setting sun was still beating down on us so we only managed a few blocks before we had to throw in the towel and retreat to the hotel pool (but not before enjoying a mango shake, of course!)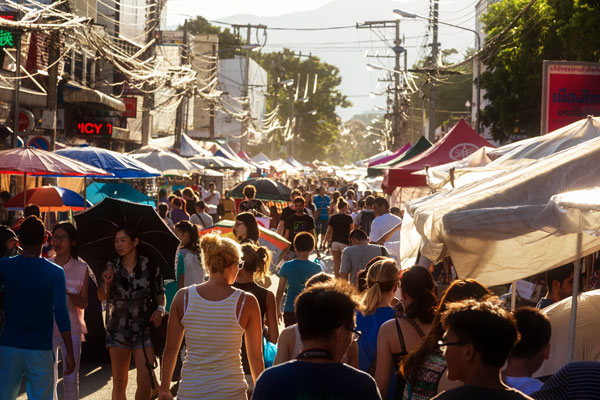 Tired from the day's pursuits, we decided to treat ourselves to dinner at one of the nice riverside restaurants near the hotel.  We chose The Gallery and were not disappointed.  We enjoyed a delicious (and huge!) meal for not even 15 € a head (beer, main dish, shared dessert, and a gin & tonic).  The clear winner of the night was Carlos's Massaman Curry, while the clear dangerous dish of the night ended up with me in the form of northern-style sausages that were amazing but SPICY and quite lonely on my plate…no sauce or other company!!  In the end it was just a bit much!  Nevertheless, it was an evening to remember.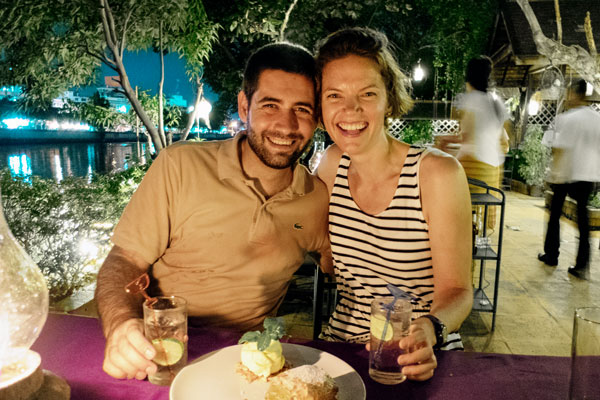 After a great night's sleep we awoke on Monday morning full of anticipation and excitement – it was elephant day!!!  We had booked the one day Pamper a Pachyderm experience with Elephant Nature Park (ENP – www.elephantnaturepark.org) and it was the day I was most looking forward to!!  To do it justice, I have written about it in the next post.  Truly amazing!!!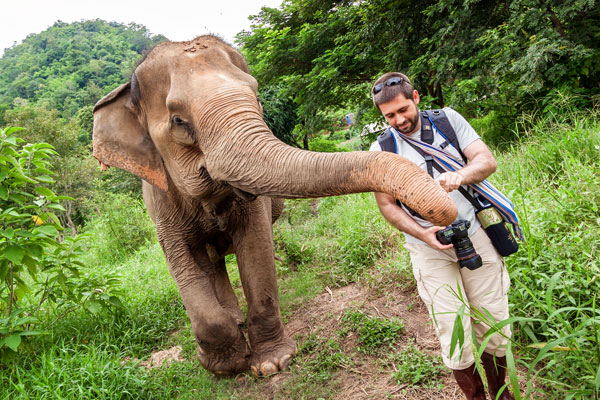 Another excursion outside of the city is a trip up to Doi Suthep and Bhubing Palace.  It took about an hour to get up the mountain in our red truck (700 baht round trip) and we visited the palace first due to its curious hours.  The palace is open from 8:30 to 16:30, but the ticket office is only open from 8:30 to 11:30 and then again from 13:00 to 15:30.  I think only foreigners need a ticket so locals can go anytime but tourists have to pay attention to those ticketing hours (50 baht)!  We also needed to rent "jedi" pants for 15 baht to cover up our shorts/capris.  Our trousers were all being "professionally" laundered at that moment since they were filthy after the elephants!
Bhubing Palace is the winter home of the royal family from January to March.  We didn't actually see much of a palace, but the rose gardens and green houses were amazing.  There were some varieties of roses that were bred right there.  We also saw the huge bamboo and lovely butterflies at the fountain/lake area.  A nice peaceful walk after the chaos of the city!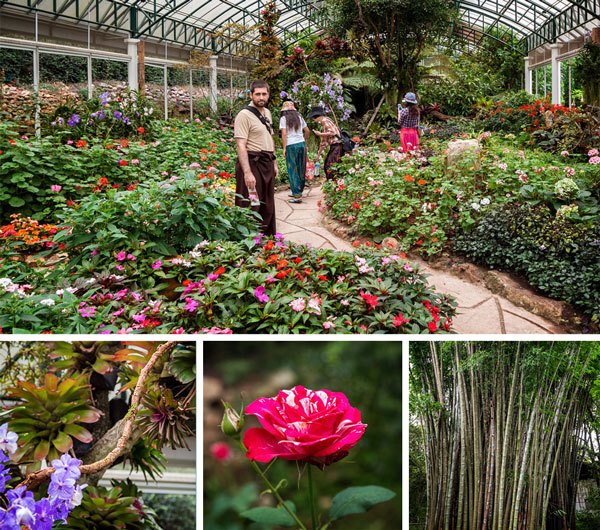 We then trucked back down the mountain about 10 minutes to the famous Doi Suthep.  Or rather Wat Phrathat Doi Suthep since the mountain itself is called Doi Suthep.  We elected to take the funicular up the hill to save our energy.  The funicular takes 2 minutes or there are about 300 steps to climb.  When we arrived at the top, the whole wat area was shrouded in cloud giving it an eerie feeling.  We spent about an hour exploring the mount.  The clouds parted somewhat to allow a view of Chiang Mai below.  The most prevalent area was the airport with the runway clearly visible.  We then took the steps back down (dodging a dog fight – the street dogs in Thailand are SCARY!) and jumped in our pick-up truck for the ride back to the city.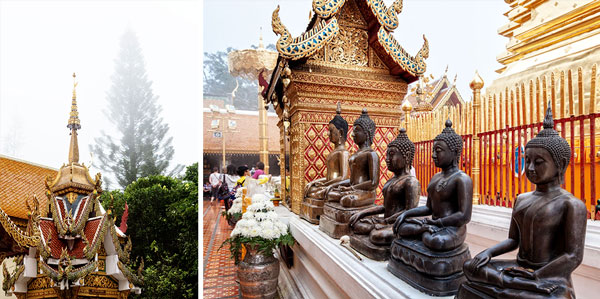 We hopped out in Chinatown to have a look at the Wororot and Ton Lamyai Markets.  We were hoping for some street food but we didn't see anything really appetising….  I don't know if we were just never in the right places but generally the street food didn't appeal to us.  All of the food was cooked and sitting in trays waiting for takers as opposed to being cooked fresh in the moment or at least staying warm in a pot or something.  I don't know…we just never indulged in the street food the way we have done in the past in Vietnam, Cambodia, and China.  🙁
We wandered towards the old city in search of food and finally found a place almost at the city gates.  I think the street we were on is the longest stretch of street in the world without a restaurant!!  or maybe I was just hungry!!  We enjoyed a nice meal of soup/noodles/rice and then discovered that the owner of the restaurant is Canadian! He chatted to us FOREVER!  It is what we call "Canadian Mode" since the Spaniards always tease me when I talk to strangers…it's a Canadian thing, eh!
Our final activity in Chiang Mai was a much anticipated cooking class!  Time to learn some secrets!  We went with Thai Farm Cooking School (www.thaifarmcooking.com) and were not disappointed.  It was 1,300 baht per person and was a full day from 8:30 until almost 5 pm.  They have an office in the old city (38 Moonmuang Road, Soi 9) but the actual class takes place on a farm about 40 minutes away from the city.  On the way out, we stopped at a market to learn about the curry powders we would be making, different types of rice, and the special sauces that are fundamental to Thai cooking (soy, oyster, and fish!)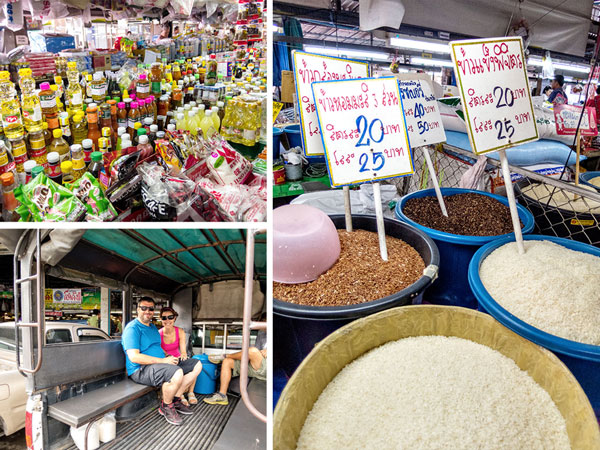 On the menu was Yellow Curry with Chicken, Tom Yam Soup with Shrimp (or Tom Kaa coconut milk soup with Chicken for those looking for a milder alternative), Chicken with Cashew Nuts, Pad Thai, and finally Sticky Rice with Mango for dessert.  We were quite nervous about the quantity of food since each of those plates is what we would consider one meal!!!!  Before getting started, we took a walk around the farm to see some of the spices and herbs that we would be cooking with.  Carlos nibbled on a chili and 5 minutes later had tears running down his cheeks!!!  Don't worry, 5 minutes after that he was back to normal!!  It must have been a doozie of a chili!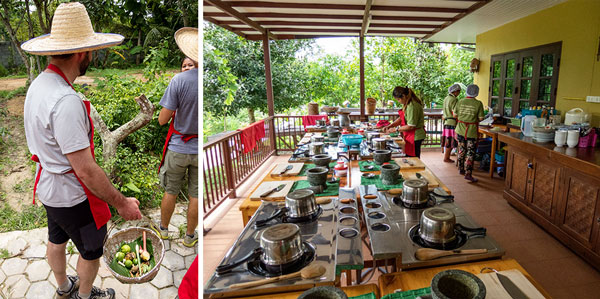 First up was the yellow curry.  My previous experience with cooking curry involved a complicated process of opening a jar from Carrefour…not so here in Thailand!  We ground our very own curry paste with mortar and pestle!  This of course is ideal since you can put as little or as much chili in as you want!  Once the paste was ready (after working up an incredible sweat!!) we set it aside and prepared our Tom Yam soup and feasted.  It was so delicious!  Mine was a little too mild since I was nervous about putting too much spice in.  Carlos's was perfect though (no fear there!)  With the first course complete, we went back to preparing the yellow curry and chicken with cashew nuts.  Both were sensational.  This was quickly turning into our favourite meal of the whole trip.  I was hoping to pick up some tips on cooking rice, but they used a rice cooker!  Perhaps that is all the tip I need……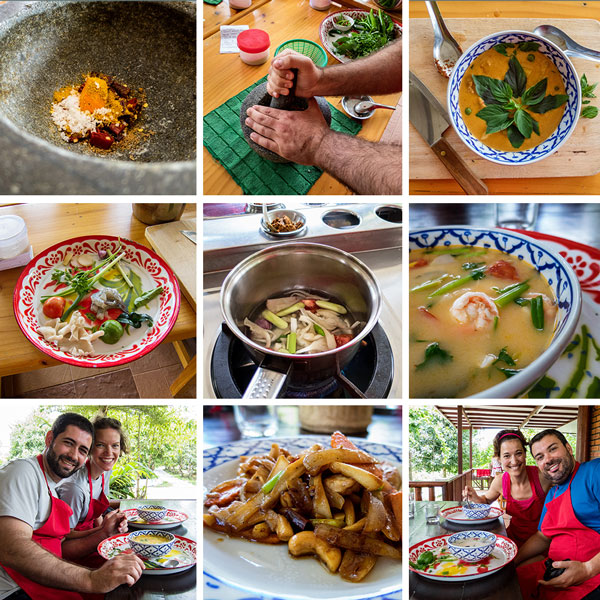 After lunch we had about an hour of free time to have a walk, siesta, or just chill.  And then it was Pad Thai time!  More food???!!!  The idea here was that it would be packaged up and we could take it with us to have for dinner.  Again with the prepared food just sitting around waiting to be eaten….!  Our Pad Thais looked so good that we decided to just eat it there and then since taking them with us didn't really appeal to us.  So good.  Virginia was the official Pad Thai expert since she can't tolerate any spice at all in her food and it is the safest dish.  She declared this one of the best, if not the best.
To cap off the day of indulgence, we had our amazing sticky rice with mango.  The rice was steamed in a bamboo basket and then combined with coconut milk.  This is the only dish that we didn't make individually.  It was mind blowing!  So good and yet we were so full….!  We did the best we could and stopped short of licking our plates clean!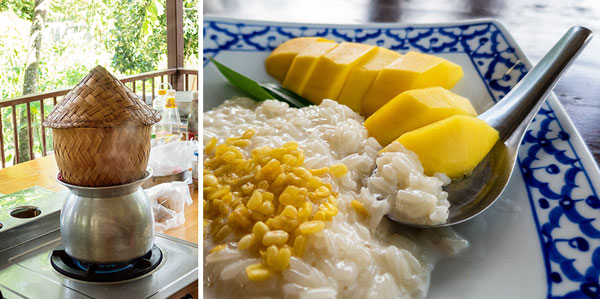 Needless to say, we definitely recommend Thai Farm Cooking School.  Just be ready to load up on delicious food!
And this capped off our 6-night stay in Chiang Mai.  We could have easily done everything with just 5 nights, but this allowed us to be very relaxed and not rushed at all.