We don't take short breaks in Europe nearly enough so this Easter we decided to change that! Portugal has been in my sights FOREVER (hello, one of only two Western European countries that I had never been to! Finland, you are next!) It was a toss up between Lisbon and Porto for our first visit to our neighbour on the Peninsula, and in this case, Lisbon won out. We stayed 5 nights and could have stayed 5 more!
The flight on TAP Airlines was great! So short! But long enough to cross a time zone and be served our first pastel de nata. It was actually quite good so we are now super-excited to have a "real" one. We flew in right over the city but we were sat on the wrong side of the plane. From the left side though we could see Belém including the Discoveries Monument and the Torre de Belém. I even caught a glimpse of the Ponte 25 de Abril bridge but as we were right on top of it, it was just a glimpse of one of the towers.
Upon arrival we had to wait about 10 minutes for our bag – it was the third to come off! Then it was a short walk to the metro. There were two banks of machines immediately visible with a short line at each. It seemed the machines kept switching to "out of service" so we went around the corner to the kiosk in case there was a mad dash by everyone else. There was a lone machine there with no one at it so we successfully and easily bought our travel cards (0,50 € each for the cards and then 20 € on each to do Zapping). It was very straightforward and Zapping is definitely the way to go.
We had a couple of minutes to wait for the train and then we were off. We had to make one change to get to our station of Martim Moniz. From the station it was a short 5-minute walk to the apartment – Hobbit House Lisbon. Vasco met us and brought us up the steep four flights of stairs explaining some of the idiosyncrasies of the building. The apartment is super-cute but not one you could recommend to just anyone. They need a sense of adventure and humour, little to no luggage, and not mind stooping low to protect their head from the gabled ceilings. Loved it. It is all worth it for the view from the kitchen window!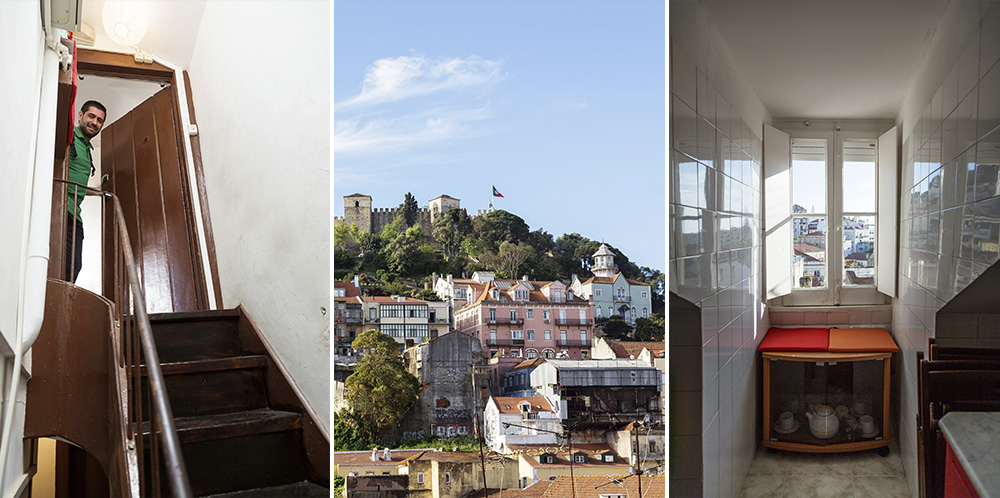 We had a quick turnaround since it was 2 pm and lunch time! We swung by Zé da Mouraria but there were loads of people milling about waiting for a table…clearly a good recommendation. So we continued back to Martim Moniz and then up Palma to Cervejeria Ramiro (Av. Almirante Reis, 1) that everyone talks about. Amazingly there was no line so in we went. We ordered canecas (big beers) and shrimp and clams. The bread was amazing!!! With butter!! The food was delicious and fresh but we felt it was quite expensive at 11 € for each dish. I guess we are spoilt in Spain!! I can see how the place is an institution though. The tables were filled with people from all walks of life…from elderly gentlemen digging into plates of mini shrimp, to a family enjoying a day out, to tourists wondering how on earth they are going to extract all the goodness from the massive crab on their plate!! Two beers, shrimp, clams, and bread was 29 €.
Feeling satisfied we headed out and began our first foray into Lisbon navigation. All I can say is thank goodness for Google Maps and free roaming!!! Throughout my research phase I kept a Google Map up to date with all of my points of interest and all of the restaurants and bars that sounded good. This map was worth its weight in gold as we wandered from mirador to mirador. Our first was Senhora do Monte after an impressive climb up a seemingly never-ending staircase! The view was worth it – even with what has to be Lisbon's ugliest/most boring building in the foreground.

We could see the Miradouro da Graça across the way so we continued around to it. We visited the church before settling into the terrace for a well-deserved imperial (small beer). The church was different…painted walls and ceilings and the proportions seemed to be off…really small statues in huge areas. My favourite was the chapel of the santísimo which in Spanish is basically the ultimate saint. I was expecting a massive statue but it was just a wee one.  🙂
Next we continued winding our way around to the Portos do Sol and Santa Luzia miradors. These were the least impressive for me but still lovely of course. The view from the Portos do Sol was reminiscent of a fishing village with colourful buildings.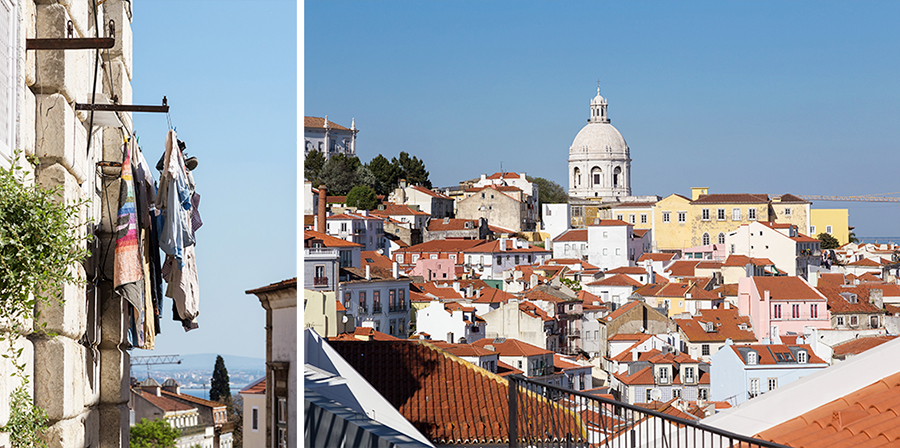 By now we had joined the tram line so we followed the tracks to the cathedral. The inside was a bit more traditional romanesque. The light was shining through the stained glass and painting beautiful colours on the palm branches that lined the central nave for the next day's Palm Sunday services. Naturally we hung out for a bit waiting for a tram to pass in front of the cathedral for the classic postcard photo.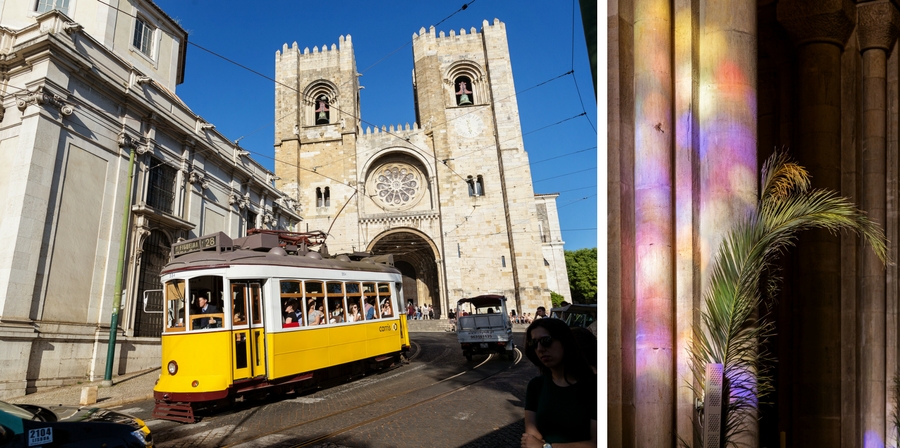 After a bit of a rest and organisation back at the apartment, we set out for our sunset viewing at São Pedro de Alcântara. We were a bit late and missed the best light but it was still great ambiance with lots of food and drink stands. The Ascensor da Glória terminates right at the park so we had fun watching it climb the hill and then proceeded to photograph it from all angles! Just across the way is the Instituto dos Vinhos do Douro e do Porto so we simply had to stop in for our first port of the holiday. Awesome!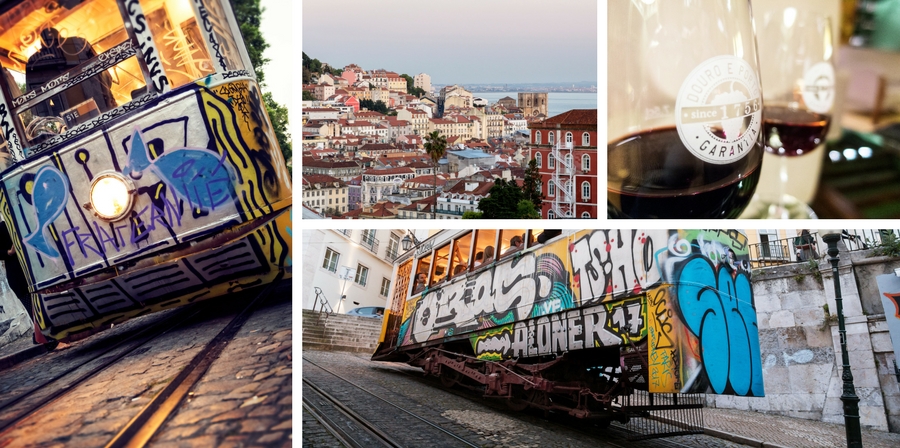 Unfortunately we couldn't linger over the port since we had dinner reservations at Carinho do Vinho (R. Nova da Piedade, 23). This wine shop turns into a restaurant on the weekend and it was simply wonderful. We had salmon, roasted mixed potatoes, baked zucchini, mascarpone mousse with oranges, wine, and port. It was all amazing. Just simple food that was prepared with love. Total was 33 € and was so much better value than Ramiro. Walking home we passed Rua da Bica (with the famous tram) and we were so glad that we weren't staying on that street (we had an apartment short-listed there). Undeniably a great location and cool with the tram, but the street was packed with people drinking. This was 11 pm but I don't imagine they were going home at midnight!!!! Meanwhile we were tucked in bed by midnight in our little Hobbit House!!
Looking for more Lisbon adventures? Click on the links for Day 2, Day 3, Day 4, and Day 5! Or maybe you just want the Coles Notes Version?