Considering I've lived in Spain for 10 years and traveled extensively throughout Europe before then, I had amazingly never been to Portugal (ever!!) Eager to change this, we booked an Easter getaway to Lisbon and had 5 wonderful days in this lovely city. We'll be back for sure!
With so much to do just in Lisbon itself, it can be overwhelming to plan a trip there. Personally, I can't imagine spending less than 5 days and ideally it would be more like 6 or 7 to really take full advantage of what it has to offer. A couple of extra days would also allow for some scheduled chill-out time to avoid the burn-out we encountered on our last day in Sintra. 🙂
Here is a run-down of our full-tilt, all systems go visit to Lisbon!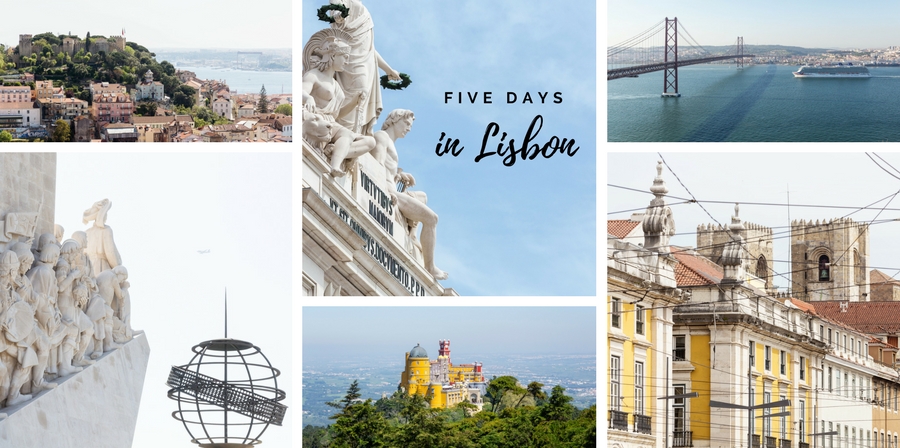 Day 1 – Mouraria, Alfama, Baixa
Our flight arrived in the early afternoon, and we used public transit to get from the airport to our apartment in Mouraria. We opted for the Zapping Card where you just load the card with any amount you wish (we used just shy of 20 € for our 5 days). When you board a bus, train, tram, or ferry, you just swipe the card and the appropriate amount comes off. In Spring 2017, the costs were: 1,25 € for bus/metro/tram, 1,80 € for the train to Sintra, and 1,18 € for the ferry. These are much lower than paying as you go (especially for the old electric trams that cost almost 3 € for a single ride!)  More information about fares and routes can be found on the Carris website.
Being our first day, we did a mirador route that brought us to several viewing points: Miradouro da Senhora do Monte, Miradouro da Graça, Portos do Sol, and Santa Luzia. Lisbon is a walker's paradise (if you don't mind hills!) Our sunset location was at Miradouro de São Pedro de Alcântara.
Read the full post about our first day in Lisbon here!
Day 2 – Baixa, Chiado, Bairro Alto
Our second day began the quest for our favourite Pastel de Nata. You can't throw a stone in Lisbon without hitting a café or bakery selling these rich treats. The rest of the morning was spent exploring Rua Augusta with its impressive arch and Praça do Comércio at the end. We continued along the river until the Time Out Market at Cais do Sodré where we stopped for lunch.
Filled with energy after our lunch break, we climbed up to Bairro Alto via Bica to watch the famous tram make its trips up and down the steep hill. We walked all the way to Basílica da Estrela and then took Tram 28 all the way back to Bica and continued our wanderings back through the city centre.
This was very much an orientation day as we just walked and walked and walked to get to know the city.
The details of our day can be found here!
Day 3 – Baixa, Chiado, Alfama
We retraced our steps from Day 2 down Rua Augusta to Praça do Comércio and then took the subway up to São Sebastião station to see the views from Parque Eduardo VII.
A stroll down Avenida da Liberdade brought us back to our area for lunch and a brief rest before tackling the castle. The best advice I can give for visiting the castle is to take the little bus #737 from Praça da Figueira right to the gates of the castle. We never did take Tram 28 from Martim Moniz up through Alfama since the line was always so incredibly long (and everyone wanted a seat so the trams would leave with all the standing room available.) We used Tram 28 as a means of transit from other points of town but always avoided that mayhem (and always stood!)
The castle was nice to ramble around. We timed our visit to be able to see the sun set over the city. It wasn't nearly as overrun as I expected it to be, so it was actually a peaceful sunset.
You can read all about Day 3 by clicking here!
Day 4 – Belém & Cacilhas
Day 4 brought us further afield to Belém and then across the river to Cacilhas. We went up the Discoveries Monument which was a great view. The lines were long (and the sun was hot) for both the Monastery and Torre Belém so we chose to appreciate those only from the outside. We loved our stroll along the waterfront between the Discoveries Monument and Torre Belém.
No trip to Belém is complete without trying the famous Pastéis de Belém. Avoid the insanely long line at the counter by just going inside and taking a seat at one of the hundreds of tables available inside. The place is huge….please don't wait in line!!!!! 🙂
Back in Lisbon, we took the ferry over to Cacilhas for another waterfront walk and delicious lunch. We walked all the way to Cristo Rei (via the elevator to take us from the waterfront up to the town centre of Alamada). It was worth the visit, for sure. Even if you don't want to go up to the viewing platform at the statue, the views from the garden area are also wonderful. We enjoyed the sunset from Cacilhas.
All of the stories and hints from Day 4 can be found here.
Day 5 – Sintra
It seems that there are certain things that simply must be done during a visit to Lisbon: eating copious amounts of pastel de nata, taking a tram ride, tasting the ginjinha liqueur, and taking a day trip to Sintra. We took the train from Rossio at 8:40 am and stepped back off the train at about 7 pm. Needless to say, it was a long day but certainly worth it.
We took the tourist bus (5,50 €) straight up to Pena Palace. Although the bus ticket was good for hop-on/hop-off we actually ended up walking the rest of the time so in the end a taxi to Pena Palace for 10 € would have been much better value and faster. From Pena Palace we walked through the park to the Cruz Alta Mirador and then down to the Valley of the Lakes. From that lower exit we had a short walk to the entrance of the Moorish Castle. After exploring the castle walls, we walked down to the town centre (path was signed and although they left you hanging in a few places, you could always make an educated guess on the correct way!)
Once in town we had lunch and then walked the 15 minutes to Quinta da Regaleira. We were starting to get burnt-out so we prioritised the Initiation Well and then called it a day! The train station is about half an hour away on foot from Quinta da Regaleira so we had our last walk of the trip!
Sintra is popular for a reason and crowds will always be an issue during the mid and high seasons. Patience is necessary along with the ability to just go with the flow. For all of the details of our visit, take a look at the Day 5 post here!